by Sarah - September 27th, 2015.
Filed under:
Garden Buildings Direct
,
New Products
.
Garden Buildings Direct has these new items today

BillyOh Acorn Flatbed 2 Burner Gas BBQ Barbecue £149.00
The BillyOh Acorn Flatbed barbecue is a superb BBQ which is ideal for those alfresco gatherings. Stylish as well as practical this is a BBQ that is sure to delight anyone who has a flair for outdoor cooking. Features The BBQ features stainless steel tube burners with cast iron grill and griddle sections with hood, ideal for all types of BBQ cooking. To add a more authentic BBQ taste the unit is supplied with lava rock and basket. For ease of lighting the barbecue features a push button piezo electric ignition system. To aid in the clean up this unit also features a fully galvanised steel drip tray to catch all of the BBQ debris. The unit is housed in a stylish wooden trolley with two side shelves ideal for additional storage. The front of the trolley is covered with a BillyOh branded cloth to hide anything that you wish to place behind it. The trolley also features plastic wheels to aid in manoeuvrability. To compliment the BBQ it comes supplied with a cover and clip on propane regulator and hose. . Gas and Regulator . We include a propane patio gas clip on gas regulator as standard with this bbq and recommend that you use propane gas or patio gas to achieve the best barbecuing experience. However this barbecue can use either propane patio gas or butane LPG gas. . We recommend propane patio gas as it will supply gas all year round, even on cold winter days. Butane bottles however tend to supply sufficient gas during the summer, but its performance may well be reduced once temperatures drop below 10 degrees C. Please be aware that if you intend to use butane that a butane regulator is not supplied and we do not stock these items. . Grill Cooking . The burner heats up the lava rock underneath the grill, which in turn heats up the food on the grill. The natural food juices produced during cooking fall onto the hot lava rock below and vaporise. The subsequent rising smoke bastes the food, as it travels upwards, imparting that unique barbecue flavour. . .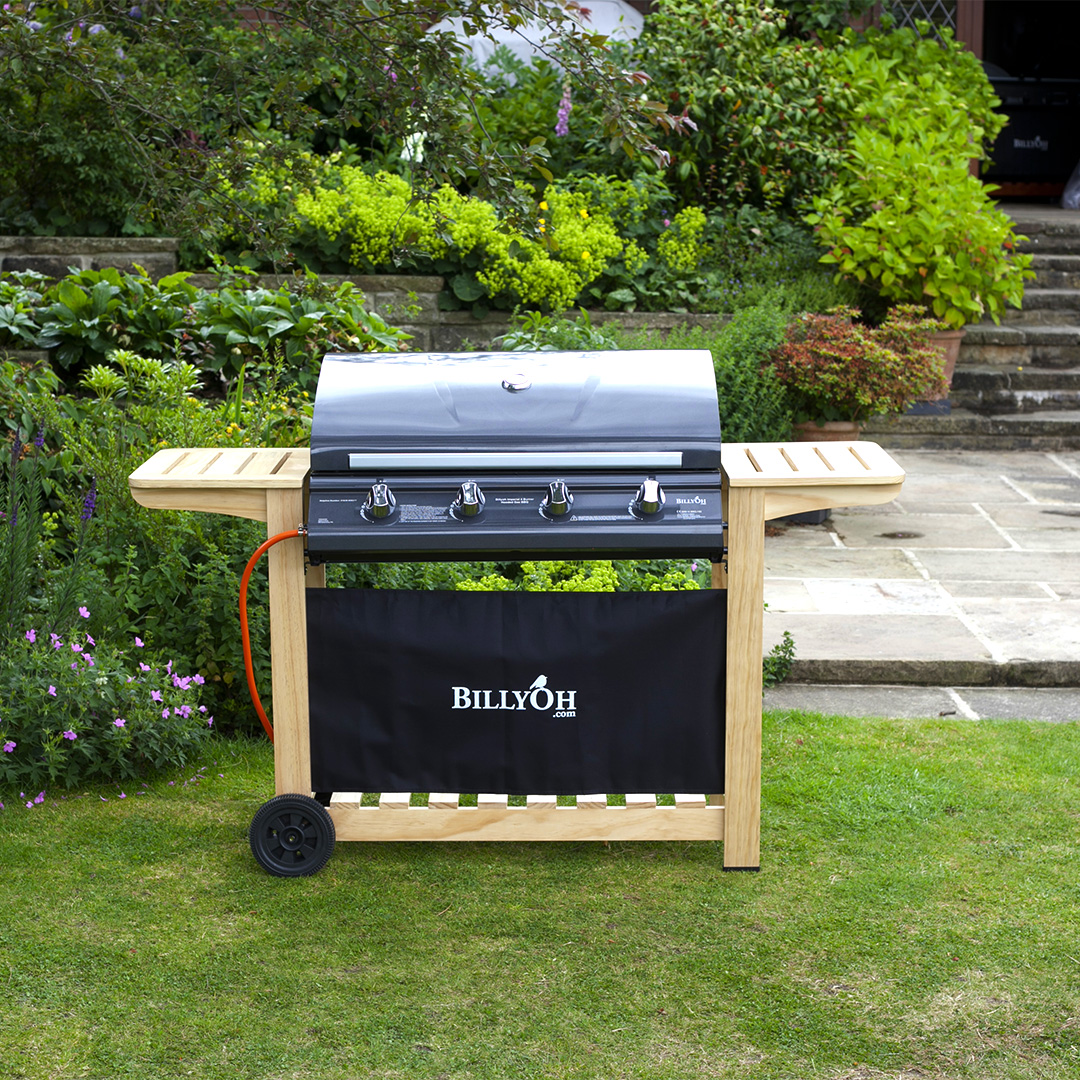 BillyOh Imperial 4 Burner Hooded Gas Hooded BBQ Barbecue £219.00
BillyOh 4000 Imperial 4 Burner Hooded BBQ