by John - October 2nd, 2015.
Filed under:
GreenFingers
,
Price Reductions
.
GreenFingers has cut the price of this product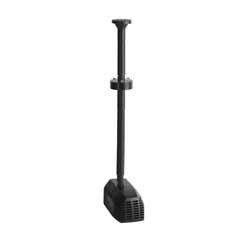 Bermuda Jupiter Solar Pond Fountain Pump was £86.24 now £69.99
The Bermuda Jupiter solar powered pond fountain pump is easy to install with no wiring required at all. Embrace a greener future and save money too as this handy pond accessory requires no wired power supply taking all the energy it requires from solar power giving an impressive maximum fountain head height of 70cm.It has an integrated battery pack that gives 3 hours of use when fully charged allowing it to be used in cloudy weather or at night. The transformer also has colour coded LED indicators to show whether its using solar power energy or battery backup. There are also lights to indicate if it is charging and for low batteryThis model includes interchangeable fountain heads to suit your requirements and also features an arrangement of LED lights that create an amazing night-time display and focal point for your garden.This fabulous product can be used as a stand alone fountain; simply place in your pond. The environmentally conscious can also use this to replace the pump of an old water feature to convert it to solar power.Specifications at a glance: Max. fountain height 75cmSupplied with solar panel and transformerSupplied with interchangeable fountain head jetsIntegral LED lightsBattery back up lasts approx. 3 hours when fully chargedCan be used at nightApprox. 5m cable from the solar panel to pumpIncludes ground stake A dazzling water feature that will be admired by all who see it.
Plus another 0 great reductions