by Sarah - October 3rd, 2015.
Filed under:
Crocus
,
New Products
.
Crocus just added these new products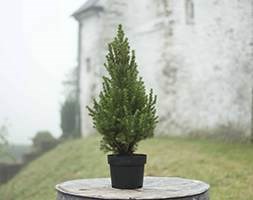 Picea glauca var. albertiana 'December' (Picea glauca 'December') £39.99
Position: full sun Soil: deep, moist, well-drained, neutral to acid soil Rate of growth: slow-growing Other features: ash-grey bark Hardiness: fully hardy Perfect for a short-term, table-top Christmas tree, this conifer may not come as a perfect pyramid, but it looks charming, especially when adorned with decorations, lights or tinsel. Try to keep it in a cool, bright room and move it outside as soon as possible after Christmas, where you can enjoy it for the rest of the year. It is currently around 65-70cm tall (including the the pot) and is a year older than our small table top tree. It has beautiful, blue tinged green, needle-like leaves. As it matures it will also produce oval, green summer cones that age to brown. A slow-growing, broadly conical, evergreen conifer is an excellent specimen tree for a small, sunny garden. Best in moist, well-drained, neutral to acid soil or ericaceous compost if you wish to keep it in a pot. Garden care: To maintain the plant's distinctive shape remove any misplaced or diseased branches in winter.