by John - October 8th, 2015.
Filed under:
GreenFingers
,
Price Reductions
.
Price cut on this item at GreenFingers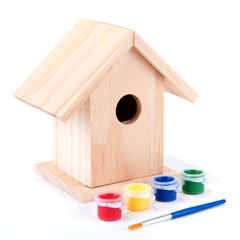 Paint Your Own Wooden Bird House Kit was £4.49 now £3.99
Great fun for your kids! This Paint Your Own Wooden Bird House Kit comes with 4 colour paint pots and a paint brush. It is a brilliant creative way to introduce your children to caring for wild birds and they will be proud to see their artistic prowess displayed in your garden for all to see. This ready assembled apex bird house is made from pine wood and will provide a safe place for wild birds to nest and give them somewhere snug and cosy to stay over the winter months. Try to place it in a quiet and undisturbed part of your garden.Putting up an artificial birdhouse will help future generations of birds and give you much pleasure derived from observing them. Birds are a very valuable source of natural pest control as they will eat a wide variety of insects. Paint colours: red green yellow and blueDimensions: W9.5 x D9 x H13cmHole diameter: approx. 25mm – suitable for for blue tits coal tits and marsh titsPlease increase the size of hole if you wish to attract larger birds:28mm for great tits tree sparrows and pied flycatchers32mm for house sparrows and nuthatches45mm for starlingsWhy not check out our Activities for Kids for more great ideas? Please click here to view the Department.
Plus another 0 great reductions