by Sarah - October 11th, 2015.
Filed under:
Crocus
,
Price Reductions
.
Crocus reduced the price on these products today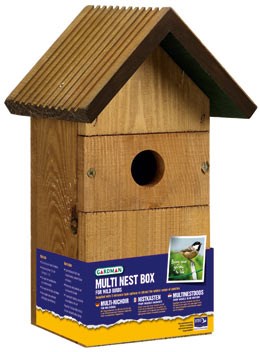 Multi species nest box was £7.99 now £5.99
This multi nest box has interchangeable entrance panels which makes is suitable for many species. It is open fronted which is suitable for robins, it has a 32mm hole suitable for sparrows, great tis and nuthatches. It also has a 28mm hole suitable for blue tits and flycatchers. Endorsed by the BTO (British Trust for Ornithology) and meets all the BSA (Bird Care Standards Association) standards Made from FSC wood 29cm high Interchangeable entrance panels
Hydrangea macrophylla 'Peppermint Blue ='RIE13′ (PBR)' (lacecap hydrangea) was £19.99 now £14.99
Position: full sun or partial shade Soil: moist, well-drained, moderately fertile, humus-rich soil Rate of growth: average Flowering period: July to September Hardiness: fully hardy Like many of the new breed of hydrangeas, this fab new form can produce its big bi-coloured flowerheads on both new and old wood. That means you get more flowers over a longer period than you would on one of the older macrophyllas. This one has been treated with iron, so the flowers are a pretty blue with a broad white edge to each 'petal'. In subsequent years, if you want to keep the flowers blue, you will to either grow them in soils or compost with an acidic pH, or apply a hydrangea colourant. Garden care: Hydrangeas do not like to dry out. In dry weather, soak the roots with a hose and the plant will usually recover. Remove faded flowerheads in spring after the danger of frosts, cutting back the flowered stems to a strong pair of buds. Take out misplaced or diseased shoots. Mulch young plants with a well-rotted manure or compost in spring. Once established, remove a quarter to a third of the shoots to the base of the plant.
Garden obelisk was £41.99 now £36.99
This attractive wooden obelisk will create a real feature in the garden. It is ideal to support climbing plants and veg and can be postioned wherever in the garden it is required. The obelisk is manufactured from smooth planed, pressure treated FSC timber, is supplied flat packed for self assembly and has a 15 year anti-rot guarantee. Measurements: Height: 180cm Width: 70cm square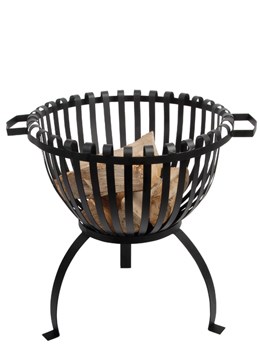 Steel fire basket was £59.99 now £54.99
This simple, elegant fire basket is designed to be used outdoors. It will take several burning logs. The open sides allow the heat to radiate out keeping everyone huddled around it warm. We also offer a round tray for it to sit on (sold separately) so that no harm comes to the surface that it is on. Although the steel is finished to a high standard with a powder coat – over time it will show some signs of rust as the paint burns off and if left outside. Dimensions: Height – 55.5cm Diameter – 50.3cm Base diameter 40cm