by John - October 15th, 2015.
Filed under:
Harrod Horticultural
,
New Products
.
Harrod Horticultural has this new product today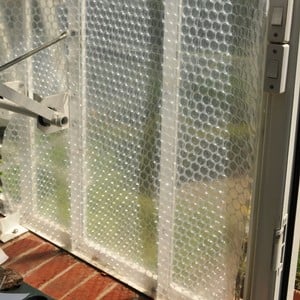 Greenhouse Bubble Wrap – 20mm Bubbles £3.00
Our 1.5m (5) Wide, Laminated, Uv Stabilised 20mm Bubble Wrap Greenhouse Insulation Is The Real Deal – Beware Of The Packing Bubble Wrap Where You Can Easily Burst The Bubbles With Your Fingers As This Wont Do The Job. Our Greenhouse Bubble Wrap Will Help To Keep An Unheated Greenhouse Frost Free So Greatly Reducing Fuel/electricity Consumption In Heated Greenhouses, Saving Up To 50%on Heating Costs!the Bigger 20mm Double Laminated Greenhouse Bubble Wrap Insulation Should Be Placed With The Bubbles Against The Glass For Maximum Effect. Well Worth The Investment, Offers Even Better Light Transmission And As Importantly The Larger Depth Provides A Great Insulating Effect. the Double Construction Creates A Strong Sandwich Effect Making Our Bubble Insulation The Best Around – Youll Find It Hard To Burst Our Bubbles! – And As The Material Is Uv Stabilised Too, You Can Bank On It Maintaining Winter Warmth For Years To Come!bubble Insulation Is Double Laminated For Added Strength And Durabilityuv Stabilised So Will Last For Seasonsweighs 102g/sqm (not To Be Confused With Cheaper Versions Weighing Only Half As Much)20mm Double Laminated Bubble Insulation Provides Excellent Light Transmissioncan Cut Greenhouse Heating Costs By Up To 50%!use With Our Alliplugseasy To Fix Up And Take Downwill Last Season After Seasonfit To The Inside Of The Greenhouse To Create A Heat Maintaining Double Glazing Effectallispacers Lift Bubble Insulation Off Glass Creating Greater Insulationuse Corner Adaptors For Neat Corner Fitavailable By The Linear Metre Or In Extra Value 10m Roll.buy Extra Value 10 Metre Roll – Save 5.00!