by John - November 21st, 2015.
Filed under:
GreenFingers
,
New Products
.
GreenFingers added loads of new items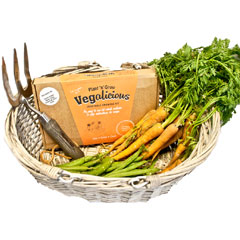 Plant n Grow Vegatable Starter Kit £12.99
Have you ever wanted to have fresh ingredients to hand when you are preparing meals at home? With the Plant n Grow Vegetable Starter Kit you can have just that and the beauty is you will know exactly how they have been grown because you will have done it yourself.The Vegalicious vegetable seed starter kit includes following highest quality seeds: Carrot Dwarf French Beans Peas Spinach Swiss Chard Provided is a 5-step illustrated how-to instruction card as well as growing on outdoor sowing harvesting and uses instructions. A mini-propagator is used to house 6 Mini Compost Discs which you soak with warm water then plant the seeds and watch your vegetables grow. Also included;6 plant markersPencilSpecially tailored recipe card from chefs at an award winning cook schoolThis is a really environmentally friendly way to get your vitamins and anti-oxidants and even the boxes that this kit comes in is both recyclable and biodegradable. The box wraps instruction and recipe cards are all printed on FSC card and are fully compostable.All Seeds comply with EC rules and standards and each seed packet is clearly labelled with the seed name and sow by date.Click here for planting Instructions.
Plus another 81 new products