by John - November 25th, 2015.
Filed under:
GreenFingers
,
New Products
.
New items added today at GreenFingers Greenfingers FSC Fir Raised Bed – 30cm high £29.99
Ideal for small spaces in gardens or allotments this Greenfingers FSC Fir Raised Bed allows you to grow and harvest your own fruit vegetables or herbs. It allows the plant roots to grow long straight and strong and you can also overcome problems with your existing soil by using new soil or an organic growing medium. A raised bed is an easy way to look after your crops and also means less strain on your joints as it can be used on a platform for gardeners who have problems kneeling down. It is not only practical but also makes an attractive feature in your garden. This raised bed is made from Fir that has been sourced from FSC Certified managed forests FSC trademark licence code FSC N001623 and is also ACQ pressure treated so it will last for years to come.W100 x D100 x H30cmPlease note: that due to this being a natural product that has been treated the colour may vary from a light green shade to a more neutral tone.Click here for Assembly Instructions.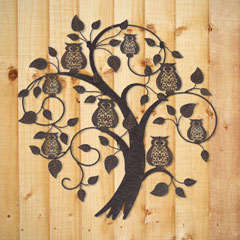 La Hacienda Treetop Owls Metal Wall Art £21.99
If you like owls and you are looking for a piece of wall art then you are going to love this La Hacienda Treetop Owls Wall Art.Wrought in natural coloured metal this piece will look equally at home inside as it will outside on a patio wall.It depicts 8 delightfully whimsical owls perched in the branches of a leafy tree. They are enhanced by the pierced metal work on their bodies whilst the leaves have scored detail and the trunk has a beaten finish. This is a good sized piece that will really profit from a plain light coloured background to ensure you get the full benefit of all the detail in this art work.Pierced metal work8 perched owlsMetal constructionDimensions: W65 x H70cm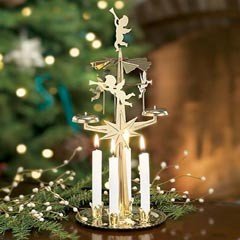 Original Swedish Angel Chimes in Brass £10.99
Relive nostalgic Christmas memories with these Original Swedish Angel Chimes. With 4 white candles included simply light them and sit back and watch as the angels gently spin around from the heat of the candles making a soft dinging as they go.This creates a fantastic centrepiece and is sure to get your guests talking and reliving childhood memories.Manufactured from brass plated steel these angel chimes will bring a smile to not only your face but also everyone who sees them! Click here to also order LS6910D Replacement Candles Dimensions: 12 x 12 x 30cm high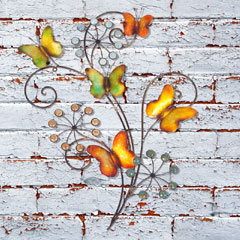 La Hacienda Butterflies & Flowers Metal Wall Art £21.99
This La Hacienda Butterflies and Flowers wall Art is certain to add colour and style to any indoor or outdoor wall.Wrought in metal with bead details this colourful piece of art depicts 5 butterflies taking wing up through what looks like stylised dandelion heads. Their colourful bodies will reflect the sunlight increasing the interest and joy that this piece is sure to bring you.Bead detail on flowers5 colourful butterflies2 Hanging pointsDimensions: W43 x H60cm
Plus another 0 new products