by Sarah - November 29th, 2015.
Filed under:
Crocus
,
New Products
.
Crocus has these new products today
Camellia japonica 'Lady Vansittart' (camellia) £9.99
Position: partial shade (but not east-facing) Soil: moist but well-drained, humus-rich, acid soil (or ericaceous compost for container-grown specimens) Rate of growth: slow-growing Flowering period: February to April Flower colour: white with rose-pink stripes Hardiness: fully hardy An unusual camellia with semi-double, white flowers, flushed and striped rose-pink, and distinctive, almost holly-like, dark green leaves. This upright, evergreen shrub is perfect for growing in a large, well-drained pot. Since it's less vigorous than other varieties of camellia it's easy to keep small and neat. Garden care: To prevent damage to the emerging buds and flowers protect from cold, dry winds and early morning sun. Water established plants in dry weather to prevent bud drop. Apply a balanced liquid fertiliser in mid-spring and again in June. Top-dress annually with shredded bark or well-rotted leaf mould. After flowering lightly trim or prune any branches that spoil the appearance of the plant. Protect container-grown specimens in winter by wrapping with bubble wrap or hessian.
Hibiscus syriacus 'Pink Chiffon = 'Jwnfour' (PBR)' (tree hollyhock) £8.99
Position: full sun Soil: humus-rich, moist but well-drained, neutral to slightly alkaline soil Rate of growth: average to fast-growing Flowering period: August to October Hardiness: fully hardy Garden care: To encourage a bushy habit prune young plants hard in late spring. After pruning apply a generous 5-7cm mulch of well-rotted garden compost or manure around the base of the plant. Once established it requires little if any regular pruning.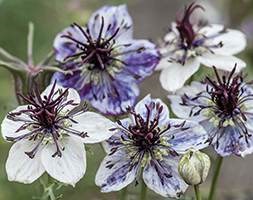 Nigella 'Delft Blue' (love-in-a-mist) £1.99
Position: full sun Soil: any well-drained soil Rate of growth: fast growing Flowering period: July to September Hardiness: hardy annual A beautiful annual with variably splashed and mottled silver-grey and blue petals, which form a disc-like base for the prominent plum-purple stamens. The flowers are excellent for cutting and after they have faded they produce decorative seedheads, which look great in dried arrangements. Garden care: Best sown in situ, 5mm deep. Prepare the seedbed by incorporating some composted organic matter, remove any stones and rake to a fine tilth. Sow in autumn if you want early flowers the following summer, or in mid spring for a later crop. Thin them out when they are large enough to handle allowing 30cm between each. Deadheading regularly will help prolong the flowering period into autumn. Support the plants with twiggy branches in exposed gardens. Sow: September-October or March-May Flowering: June-September Approximate quantity: 500 seeds.