by Sarah - January 7th, 2016.
Filed under:
Crocus
,
Price Reductions
.
Crocus has cut the price of these lines
Paeonia lactiflora 'Bowl of Beauty' (paeony / peony) was £14.99 now £10.49
Position: full sun or partial shade Soil: fertile, moisture-retentive yet well-drained Rate of growth: average Flowering period: June to July Flower colour: pink Other features: mid-green leaves Hardiness: fully hardy Fascinating pink-tinted flowers with a creamy centre appear from early to midsummer over the mid-green leaves. Like a giant anemone, the centres of these extraordinary, scented flowers are packed full of tiny, strap-like petals. An excellent specimen plant for the middle of a border in full sun or partial shade. Garden care: Deadhead after flowering. In early spring apply a balanced slow-release fertiliser around the base of the plant and mulch with well-rotted compost or manure. Fungal diseases may occur in cool, wet springs so prune out any affected parts and spray the remaining sections with fungicide.
Porcelain bird feeder on a stake was £14.99 now £12.99
These glazed porcelain bird feeders are a great addition to any garden which welcomes garden friends. The porcelain has been fired at a very high temperature which means it can be left outside in all weathers. It comes with a 1m tall steel rod that can be inserted into your lawn, border or even a large pot. The feeder has a hole in the bottom to allow excess water to drain away freely after rain. Measurements: Width: 7cm Length: 13cm Height including pole: 1m tall rod (flower – 8cm extra)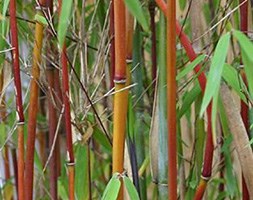 Fargesia Red Panda = 'Jiu' (umbrella bamboo) was £49.99 now £39.99
Position: full sun or partial shade Soil: humus-rich, moist, well-drained soil Rate of growth: average to fast growing Hardiness: fully hardy The upright canes of this beautiful, clump-forming bamboo emerge green, but turn golden orange, then rich reddish brown in their second or third year. This effect is more pronounced when grown in a sunnier spot. These colourful canes form a dense clump and are clothed in slender green leaves, which are retained throughout the year. The dense, upright growth makes this particularly good for hedging or narrow borders. Garden care: Do not allow to dry out while the plant is getting established.