by John - January 8th, 2016.
Filed under:
Harrod Horticultural
,
New Products
.
Harrod Horticultural has these new lines today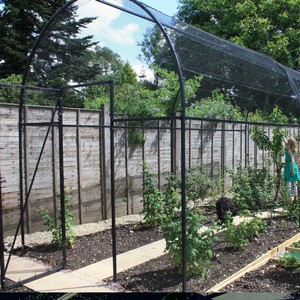 Roman Arch Fruit Cage £569.00
The Roman Arch Fruit Cage Brings All That Is Good About Our Roman Arch Together With Our Fruit Cage Manufacturing Experience; And The Result Is A Stunning Cage Of Exceptional Build Quality.all Roman Arch Fruit Cages Stand 2.5m Wide And With Four Lengths Available – 3m, 6m, 9m And 12m – There Should Be A Cage To Fit Into Every Fruit And Vegetable Growing Location. The Height To The Top Of The End Mounted Door Is 2m And With A Whopping 2.95 Of Head Height Available Inside, Your Fruit Growing Options Are Almost Limitless.each Roman Arch Fruit Cage Is Supplied Complete With 16mm Mesh Heavy Duty Side Netting, Shaped 19mm Knotted Mesh Roof Netting, A Door Kit And All The Pegs, Clips And Ties Required For Assembly. The Framework Is Well Known To Existing Steel Fruit Cage Customers And The Unflinching 25mm X 1.5mm Thick, Galvanised Inside And Out Black Powder Coated Steel Is Guaranteed For 10 Long Years.youll Find The Authoritative Roof Lines Of The Roman Arch Fruit Cage Are Achieved With Help From The Galvanised Wire Roof Supports And For Those Hardy Fruit Growers In Exposed Locations, Optional Braces Are Available To Strengthen The Frame – Footplates, Which Add Extra Upright Stability, Are Included In The Kit For Each Upright. weve Even Made Additional Door Kits Available For Those Fruit Fans Who Just Cant Get Enough Of The Roman Arch Fruit Cage And Need One Of The Long Sizes, Allowing You To Introduce A Door At Each End.designed And Manufactured By Us In The Uk10 Year Framework Guaranteeroman Arch Fruit Cages All Measure 2.5m Wide4 Lengths Available; 3m, 6m, 9m And 12mheight To Top Of Door Is 2mmeasures 2.95m To Highest Internal Pointbased On Our Resoundingly Successful Roman Arch Designsupplied Complete With Door, Side And Roof Netting, Pegs, Clips, Ties And Footplates For Each Uprightunique 25mm X 1.5mm Wall Square Section Steel Framework Provides Exceptional Strengthsteel Framework Is Fully Galvanised And Matt Black Polyester Powder Coat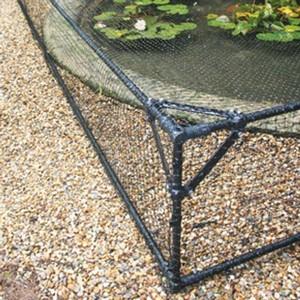 Harrod Slot And Lock £67.00
The Harrod Slot And Lock Aluminium Raised Pond Covers Are A Great Way To Protect Your Pond – And Fish- From Herons, Falling Leaves And Other Pond Undesirables And You Can Be Sure These High Quality Covers Will Last For Years.the Raised Pond Covers Utilise The Rhs Chelsea Flower Show Garden Product Of The Year 2012 Award Winning Slot And Lock Technology To Hold The 16mm Diameter, Corrosion Resistant (always Handy Near Water) Black Powder Coated Aluminium Framework Securely Together, Allowing The 16mm Extruded Polyethylene Mesh Netting – As Used As Standard On The Side Of Our Fruit Cages – To Get On With The Job Of Pond Security.available In Size Options From 1m Up To 3m, The Raised Pond Cover Sits On The Surface Around The Pond And The 40cm High Cover Is Braced At The Corners For Extra Rigidity.both Lightweight For Easy Access And Durable, The Slot And Lock Pond Covers Will Keep Fish Happy And Herons Glum For Years To Come. please Note That The Harrod Slot And Lock Aluminium Pond Covers Are Not Designed Or Guaranteed To Prevent Children And Pets From Falling Into Ponds.raised Pond Cover Is 40cm High And Stands Clear Of Marginal And Aquatic Plantsavailable In A Range Of Size Options From 1m Up To 3mframework Made From 16mm Diameter, Anti Corrosion Black Powder Coated Aluminum Tubingpond Covers Use Award Winning Slot And Lock Connectorsraised Cover Has Braces For Extra Rigiditylightweight For Easy Accesskeeps Out Herons And Falling Leavesnot Designed Or Guaranteed To Prevent Children And Pets Falling Into Waterflat Aluminium Pond Cover Is Also Available. dont Rule Out Any Of Our Pond Covers Just Because You Cannot See A Size To Suit. We Can Adapt Our Pond Covers To A Tailored Size For You. Just Download Our Bespoke Pond Cover Form And Send It To Us Or Call 0333 400 6400 (local Rate).