by Sarah - January 13th, 2016.
Filed under:
Crocus
,
New Products
.
Crocus just added these new products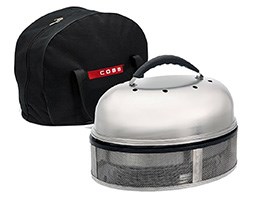 Cobb supreme £279.99
This BBQ is the perfect choice for those who love to entertain outside. Ideal for catering for a larger group, as it allows large amounts of food to be cooked simultaneously. This item is supplied with a carry bag and roast rack. Product information: Made of sturdy and hygenic stainless steel Grill plate is non-stick teflon Gives off minimal smoke Heat is contained inside, meaning that the outside is cool to the touch whilst cooking Compatible with most dishwashers (excluding the base plate) Economical with fuel, 12 – 20 briquettes, or just 2 cobblestones plus 600g of charcoal will cook everything Weight: 8kg Dimensions: Height 38cm (with dome), Width 36.5cm, Length: 50cm Please note that BBQ should never be left unattended and should never be used in a confined space. For outdoor use only.