by Sarah - January 17th, 2016.
Filed under:
Crocus
,
Price Reductions
.
Reduced price on items today at Crocus
Hippeastrum 'Christmas Gift' (amaryllis bulb) was £7.99 now £3.99
Position: bright but not in full sun Soil: moderately fertile, well-drained soil or in loam-based compost, such as John Innes no2, with additional leaf mould and sharp sand Rate of growth: average Hardiness: frost tender (will need winter protection) Bulb Size: 26/28 Slightly ruffled, creamy white petals with a green-flushed eye, form sumptuous trumpet-shaped flowers in winter. A wonderful gift for a green-fingered friend, these bulbs are easy to grow in pots. General care: Fill a pot with good quality potting compost, setting the bulb in the compost so that the top two thirds are exposed. Water the compost only when the surface is dry, watering too much just after potting can cause the bulb to rot. Keep the plant in a sunny spot, though not direct sun and rotate the plant so as to avoid the flower stalk leaning towards the light. General care: Before planting make sure the supplied compost is moist but not waterlogged. Place half the compost in the pot and then sit the bulb on top (pointy side up). Fill in with the remaining compost so the upper third of the bulb is exposed. Water sparingly and place in a bright, warm position (indoors). Keep the compost moist but not waterlogged at all times and rotate the pot every so often to keep it growing straight. The stem may need support when the flowers start to bloom. Once flowering has finished cut off the flower stalk 5-10cm above the bulb – don't cut off the foliage. Water when the surface of the compost is dry and feed regularly with a balanced liquid fertiliser. Usually the best thing to do is keep watering it through the summer and in autumn stop watering and move to a dark, dim spot. This stimulates the drought season of the plant's native South America. Allow it to dry out for a few months so that the foliage wilts and dies back. In November bring it back in to the light and start watering again. Old foliage should be removed though take care not to cut any new shoots off. In a few weeks a new flower shoot will appear and flower just in time for Christmas.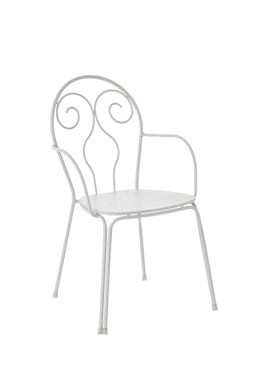 Venice arm chair was £99.99 now £59.99
Our new italian metal furniture range is made from the highest quality steel with a weather-resistant finish meaning the furniture can be left outdoors all year round. The finish is completed in four seperate process to ensure the best quality and longevity. The final process is the painted powder coating in one of our selected colours, either white or green, which is then baked at high temperatures resulting in a highly weather-resistant protective finish. Measurements: Height: 87cm Length: 54cm Width: 54cm