by Sarah - January 22nd, 2016.
Filed under:
Crocus
,
New Products
.
Crocus has these new lines today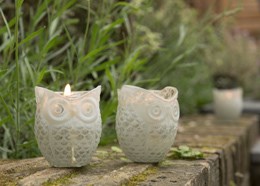 Scented candle £12.99
This hand poured soy wax candle uses a detailed owl shaped glass container which creates a beautiful ambience once lit. Delicately fragranced, this candle can be enjoyed for up to 35 hours (approx). Once the candle has been used, the holder can be reused with tea lights, or other small candles. Hand poured in Herefordshire using 100% pure soy wax.
Stachys byzantina 'Silver Carpet' (lamb's ears) £5.99
Position: full sun Soil:well-drained, moderately fertile soil Rate of Growth: average Other features: silvery white leaves Hardiness: fully hardy Rosettes of silver, greyish white leaves provide an attractive, weed suppressing carpet for much of the year. This variety of 'Lamb's Ears' rarely flowers and is an excellent, drought-tolerant groundcover or edging plant for a well-drained site in full sun. The foliage is a more intense shade of silver than flowering varieties of the plant. Garden care: Pick off and destroy any foliage that becomes infected by powdery mildew and treat the remaining leaves with fungicide. Lift and divide large clumps in early spring.