by Sarah - February 19th, 2016.
Filed under:
Crocus
,
New Products
.
New lines at Crocus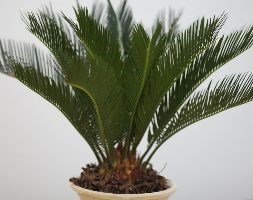 Cycas revoluta (sago palm) £19.99
Position: bright but indirect light Soil: fertile: good well drianed potting compost Rate of growth: slow Hardiness: frost tender (indoors only) Although not a true palm, Cycas revoluta is actually a member of the Cycads – a group of plants which have been around since prehistoric times and have that classic palm tree shape. Easy to look after and slow growing they became very popular in Victorian times as conservatory plants and house plants. Still popular today they are perfect for creating an exotic jungle-style look. Coping well with centrally heated rooms, they enjoy heat, but choose a bright position away from direct sunlight as this can scorch the fronds. Makes a lovely plant for a sheltered summer patio, though they are best moved back inside before the autumn. Mature plants can withstand a light frost and in very mild areas can be planted out in the garden with protection during the winter. Home care: Water well during the summer growing season, keeping the soil just moist, but only water sparingly the rest of the year. Feed regularly during the growing season with a balanced liquid fertiliser. Keep out of the reach of cats and dogs as the leaves can be toxic if eaten. Avoid repotting until it is really potbound as they don't like to be disturbed. In time this plant will grow to around 2m or more. It is an interesting-looking plant with a bulb-like base that holds onto water (which means you don't need to water it very often), with a topknot of slender leaves that cascade around the stem. This pony tail palm does not need humid air, so copes well with centrally heated rooms. Home care: Water well, making sure the excess water drains away freely. These plants dislike overwatering, so let the compost get quite dry before repeating the process again. Repot only when necessary, using a pot only a few centimetres wider than the bulbous base. Air temperatures should not dip below 7C in winter.