by John - March 19th, 2016.
Filed under:
GreenFingers
,
Price Reductions
.
Reduced items at GreenFingers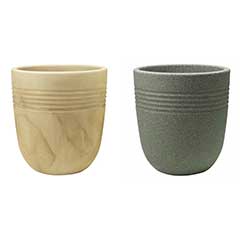 Round Egg Pot Planter – 37cm dia x 40cm high was £17.98 now £14.99
This wonderfully designed Egg Pot Planter will add an aura of ethnicity to your patio conservatory or indoors.Made from durable plastic lightweight and easy to manoeuvre. This planter comes with a drainage hole. It has the look of stone for an exquisite finish and with a vibrant splash of coloured plants it will provide a stunning focal point.Dimensions: W37 x D37 x 40cm Stomp Edge Rubber Edging Slate 3 x 1.8m Multi-Buy was £49.99 now £39.99
A low-maintenance lightweight alternative to traditional edges the Stomp Edge Rubber Edging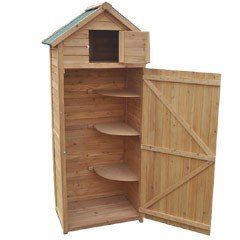 Greenfingers Sentry Apex Storage Shed – 2.5 x 6ft was £159.99 now £149.99
This Greenfingers Sentry Box features a handy upper storage area as well as 3 fitted shelves in the lower storage area. It is ideal for storing your long or tall garden items as well as garden tools. The single door and storage door are both secured with bolts. The height of the eaves allow for generous storage in the top area and the handy shelves in the lower area are perfect for your smaller items leaving you plenty of room for the larger garden tools. Manufactured from high quality Fir making this sentry box both robust and durable it is advisable to treat the wood with a good quality preservative to ensure that it lasts for many years. External Dimensions:Overall: W78 x D54.5 x H178cmLower Door: W60 x H123.5cmUpper Door: W23 x H23cmRoof depth: 52cmPanel thickness: 1cmInternal Dimensions: Overall: W62 x D40 x H123cmShelf: W30 x D40cmUpper storage: W62 x D40 x H38cmPlease note: Greenfingers Garden Furniture arrives flat-packed and will require some assembly. Door hinges may be black or silver.Click here for assembly instructions.Click here for Wood Information.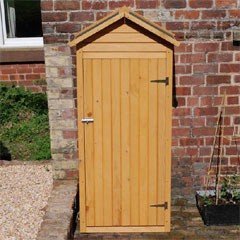 Wooden Apex Tool Shed – 3 x 6ft was £154.99 now £149.99
Extra storage space in the garden is always handy and this Wooden Apex Garden Storage Shed is the ideal space-saving solution.Complete with two internal shelves and extra height at the bottom for taller items this shed is perfect for keeping your gardening essentials stored out of sight. Neat and compact this garden store will not overwhelm your outdoor space even in smaller gardens and the asphalt covered sloped roof helps to prevent snow water and debris from accumulating.This product is manufactured from high quality softwood fir sourced from well managed and sustainable forests to reduce environmental impact. An exceptional quality and eco-friendly timber product.Overall Dimensions: W80 x D49 x H190cmInner Dimensions: W64 x D38cmFloor to First Shelf: 79cm First Shelf to Top Shelf: 35cm Shelf Depth: 19.5cmPanel thickness: 1cmCustomer Note: You should maintain this shed with a good quality preservative every year or two in accordance with the manufacturer
Plus another 0 great reductions