by Sarah - April 3rd, 2016.
Filed under:
Crocus
,
Price Reductions
.
Reduced price on products today at Crocus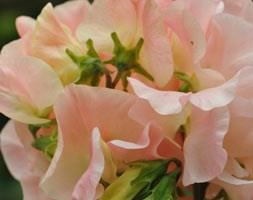 Lathyrus odoratus 'Bobby's Girl' (spencer sweet pea) was £6.99 now £3.49
These sweet peas are autumn sown and grown in root trainers to promote longer deep roots. They have been grown under a cold polythene tunnel and whilst they are hardy, they are still young and do need that extra bit of protection on cold nights for the first few weeks. Wrap them in some good quality horticultural fleece or bring them in to an unheated greenhouse or conservatory for the night. Position: full sun Soil: fertile, humus-rich, well-drained soil Rate of growth: average to fast-growing Flowering period: June to September Flower colour: cream and salmon pink Other features: sweetly scented flowers Hardiness: hardy annual Each rich cream petal is heavily infused with salmon-pink, which becomes more noticeable towards the outer edges. This creates a very pretty, almost picotee effect, that looks equally at home beside soft pastels and more strident shades of pink and plum. The flowers are large, and they also have a deliciously sweet scent. Garden care: Incorporate lots of well-rotted organic matter in the planting hole. To make sure you keep the plants in top condition spray regularly with a fungicide as all sweet peas are prone to mildew, and feed with a high potash fertiliser, such as Tomorite for plenty of flowers. Don't forget to keep cutting the flowers so that you get plenty more!