by John - April 9th, 2016.
Filed under:
GreenFingers
,
Price Reductions
.
GreenFingers has cut the price of these items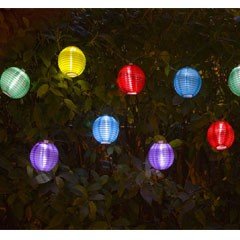 Sunflare Lantern String Solar Lights – Set of 10 was £8.99 now £4.99
Sunflare Lantern Solar Lights are ideal for decorating garden parties or perhaps just brightening up your pergola or other garden area at night. The ideas are many but one thing is for sure these multi-coloured lanterns will look superb when they automatically light up at dusk and will make a beautiful focal point. You also have the added option of changing the lighting effect from constant to flashing. A separate monocrystalline solar panel allows you to install these delightful lanterns in a dark area whilst keeping the panel in direct sunlight. 10 bright white LEDs1 x AA Ni-MH rechargeable battery includedOn/off switch Meets EN Standards: 55015:2006 A1:2007 A2:2009 61547:2009Dimensions: Overall Cable length: 3.8mDistance between lights: 20cmSolar Panel to First Light: 2mIndividual size: approx. 10cm x 6.5cmWe recommend the solar panel is exposed to direct sunlight for as long as possible; it takes approximately 10-16 hours to fully charge and provides 8 hours of light.Please let the batteries fully charge with the lights switched off before using. If you need more solar lighting ideas for your garden then please click here for the Solar Lighting department.Click here for instructions. Requires Adobe Reader.
Plus another 37 great reductions