by John - June 6th, 2016.
Filed under:
GreenFingers
,
Price Reductions
.
GreenFingers reduced the price on these items today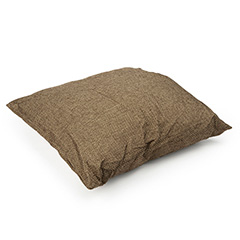 Greenfingers Outdoor Scatter Cushion – Green 45 x 45cm was £6.49 now £4.99
A great accessory for your outdoor or indoor furniture this Greenfingers Outdoor Scatter Cushion matches any style of furniture. Relax in comfort with this sumptuous cushion that is not only stylish but also hard wearing and be assured it will last for years. It is also perfect to use indoors!Manufactured from high grade 230g polyester fabric and finished with attractive piping the cushions are deep filled with polyester fibre. This fabulous zipped cushion has also been waterproofed so that the fabric stops water from passing through whilst still being able to breathe. This is a great quality product at a great price. Conforms to BS5852 fire safety standardsWaterproofRemovable cushion coverWash at 30 degreesIndoor or outdoor useDimensions: 45cm squareCustomer note: The waterproof finish is intended to protect against a rain shower and this will not affect the cushion – but constant soaking may result in water passing through the zip and sewn edges. The fabric is rot proof but we do recommend your cushion is stored away when dry.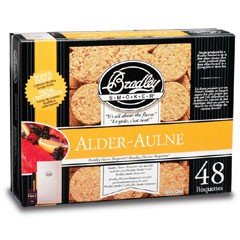 Bradley Smoker Bisquettes – Alder Flavour was £8.34 now £6.99
These Bradley Smoker Alder Bisquettes are specially designed for the Bradley Smoker to eliminate unwanted heat and smoke produced as well as infuse a great flavour into your food. To produce the bisquettes the hardwood chippings are bound together using precise quantities at controlled pressures and densities. The flavour of the smoke is determined by the variety of wood being burned which in this case is alder. Alder gives a rich and distinct smoke flavour that enriches all fish seafood meats and vegetables. In fact when smoking fish or barbequing seafood seasoned gourmets know that nothing is comparable to the taste from alder smoke!When wood burns the smoke flavour is produced in the initial minutes of the burn. Once the wood generates enough heat to keep burning on its own it yields high temperatures acids resins and gases. These will distort the flavour and the appearance of smoked food. When wood burns to this stage there is no control over the cooking conditions. With Bradley Flavour Bisquettes the guesswork is eliminated. Not only do Bradley Flavour Bisquettes but the Bradley way is four times cleaner than smoke produced by identical loose chips burned in a fry-pan or burn-box. The Bradley Smoker consumes bisquettes at the rate of approximately one every 20 minutes. Operating costs of the smoker are therefore less than a pound (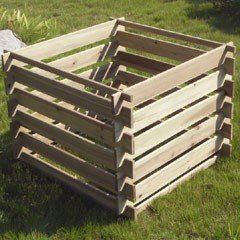 Terra FSC Fir Compost Bin – 246 Litres was £22.99 now £21.99
This medium sized Greenfingers FSC Fir Compost Bin has a slatted design that ensures good air circulation for composting. ACQ pressure treated for durability. It is a simple but effective composter made from ACQ pressure treated timber pieces that simply slot together. One of the keys to composting is aeration and the exposure to air in this slatted compost bin encourages microbial activity speeding up the composting process.Manufactured from high quality fir from FSC Certified managed forests so you know this has come from a well-managed environment it is a great way to recycle grass clippings and food waste and keeps your garden tidy too.Composting is an indispensable tool for any successful home gardener. Using a compost bin not only gives you an abundant supply of nutrient-rich soil for planting but it also provides an environmentally sound place to throw away waste food and other organic items. Dimensions: W83 x D83 x H60cmCapacity: 246 litres Click here for Wood Information.Click here for composting instructions. Click here for assembly instructions.Customer Note: Treated with ACQ pressure treatment this product is designed to last. While assembling this product it is advisable that you wear gloves and it is also inadvisable to burn pressure treated timber.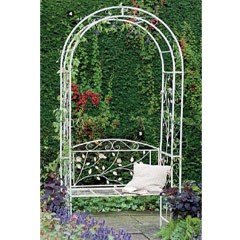 Gardman English Rose Arch with Seat was £112.49 now £109.99
Aesthetically pleasing this gorgeous English Rose Arch with Seat will add a beautiful new look to your garden. You can create a secluded spot for resting reading or just admiring the view with this stylish garden arch and seat. With the inclusion of wide panels you have the option of training climbing plants on either side; however the arch and seat both have a beautiful and intricate rose detailing which will look just as fabulous without added climbers. Enhancing any area this English Rose Arch with Seat is manufactured from iron with a cream weathered finish that will complement any garden d
Plus another 0 great reductions