by John - July 20th, 2016.
Filed under:
GreenFingers
,
New Products
.
New items added today at GreenFingers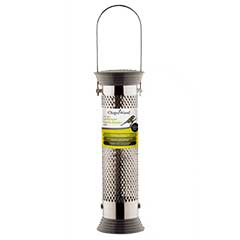 Chapelwood Heavy Duty Sunflower Hearts Feeder 12in £13.99
Attract the widest variety of nesting birds to your garden with this Chapelwood Heavy Duty Sunflower Hearts Feeder. Sunflower hearts are a delicacy for your garden visitors and make perfect all year round food. It is essential to regularly clean out this feeder and be sure not to overfill it as food left too long can go mouldy due to damp conditions. Made from a strong stainless steel construction it features a double button release base for easy cleaning and a slide top opening for easy filling. It also comes with a screw threaded base for use with Chapelwood dining stations and accessories. This quality feeder includes an extra long hook to allow hanging in a variety of locations and is suitable for bird enthusiasts of all levels. Birds learn to rely on a food source and if the source dries up they will quickly move on – a great reason to make sure your sunflower heart feeder is always filled up to keep your feathered visitors returning. Easy to maintain and clean. Stainless steel mesh tubing. Wild Bird Life Approved. With disappearing habitats and climatic changes the Royal Society for the Protection of Birds (RSPB) and the British Trust for Ornithology (BTO) both recommend the year-round feeding of garden birds to maintain a healthy and viable flock of native species. Feeding requirements are greater in late autumn and winter when natural resources are in shorter supply and high energy levels are also needed during spring when birds are busy breeding and raising young. Once you have established a feeding regime – don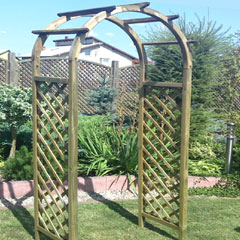 Apollo FSC Pine Rose Arch £79.99
This Apollo FSC Pine Rose Arch has a traditional design and is crafted using FSC timber to produce a stunning garden feature.Arches are a great way to add drama to your garden design and you can use them to divide and separate different areas of the garden. Adding an arch to your garden can give the illusion of more space too.Strong and sturdy the Pine Rose Arch features FSC Certified timber which gives you peace of mind that the wood used has come from responsibly managed sources. It is easily assembled and has been pressure treated to protect against rot which means that it will keep its look and quality for years to come. ACQ pressure treated. FSC timber. Easy 2 person assembly. Dimensions: W80 x D48 x H220cm The use of this Greenfingers FSC Pine Rose Arch in your garden is an excellent way of creating a stunning feature out of climbing plants such as honeysuckle and clematis or framing a spacious garden entrance.All Greenfingers garden products arrive flat-packed and will require some assembly.Customer Note: Treated with ACQ pressure treatment this product is designed to last. While assembling this product it is advisable that you wear gloves and it is also inadvisable to burn pressure treated timber.
Plus another 0 new products