by Diane - September 12th, 2016.
Filed under:
Bedding plants
,
Thompson and Morgan
.
Brilliant colour, great plants. Lots of choice at T&M.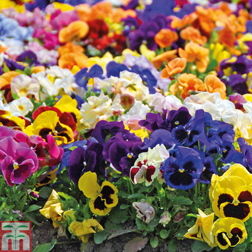 Pansy 'Matrix™ Mixed' – 36 pansy plug plants
£6.99
This vibrant blend has been specially bred for their excellent branching habit and super size flowers; and the results speak for themselves! The compact sturdy stems hold their vibrant flower heads high, whatever the weather brings to ensure your garden is filled with colour. Easy to grow, Pansy 'Matrix Mixed' is the perfect plant for all your containers and bedding displays. Height and spread: 23cm (9")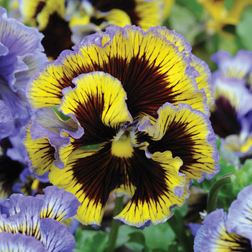 Pansy 'Frou Frou Mixed' – 36 pansy plug plants
£9.99
Thompson & Morgan's award-winning breeders have come up trumps again with this selection of wavy, ruffled, two-tone flowers. Excellent for cool season flowering, so will jazz up winter and spring pots with a carnival of colour and a cloud of perfume, just when we need it most!
Pansy 'Matrix™ Mixed' – 72 pansy plug plants £9.99
Pansy 'Ballerina' – 36 pansy plug plants £9.99
Pansy 'Most Scented Mix' – 36 pansy plug plants £9.99
Pansy and Polyanthus Duo – 72 plug plants – 36 of each variety £11.99
Pansy 'Tea Party' – 36 pansy plug plants £12.99
Pansy 'Waterfall Mix' – 36 pansy plug plants £12.99
Pansy 'Avalanche Bronze Lavender' (Trailing) – 36 pansy plug plants £12.99
Pansy 'Mystique Blue Halo' – 36 pansy plug plants £12.99
Pansy 'Matrix™ Morpheus' – 36 pansy plug plants £12.99
Pansy 'Frizzle Sizzle' Mixed – 36 pansy plug plants £13.99
Pansy Summertime Mix (Garden Ready) – 30 pansy garden ready plants £14.99
Pansy 'Cool Wave' (Pre-Planted Basket) – 1 x pansy pre-planted basket with 5 plants £14.99
Pansy 'Ballerina' – 72 pansy plug plants £14.99
Pansy 'Most Scented Mix' – 72 pansy plug plants £14.99
Pansy 'Frou Frou Mixed' – 72 pansy plug plants £14.99
Pansy 'Autumn Blaze Mixed' (Garden Ready) – 30 pansy garden ready plants £14.99
Pansy 'Matrix™ Mixed' (Pre-Planted Pot) – 1 x pansy pre-planted pot with 6 plants £14.99
Pansy 'Matrix™ Mixed' (Garden Ready) – 30 pansy garden ready plants £14.99
Pansy 'Matrix™ Mixed' (Pre-Planted Basket) – 1 x pansy pre-planted basket with 6 plants £14.99
Pansy 'RHS Winning Formula' – 72 pansy plug plants £16.99
Pansy 'Matrix™ Morpheus' – 72 pansy plug plants £17.99
Pansy 'Waterfall Mix' – 72 pansy plug plants £17.99
Pansy 'Mystique Blue Halo' – 72 pansy plug plants £17.99
Pansy 'Avalanche Bronze Lavender' (Trailing) – 72 pansy plug plants £17.99
Pansy 'Frizzle Sizzle' Mixed – 72 pansy plug plants £17.99
Pansy 'Tea Party' – 72 pansy plug plants £17.99
Pansy 'Tasty Collection' F1 Hybrid – 48 pansy plug plants £19.99