by John - September 16th, 2016.
Filed under:
GreenFingers
,
Price Reductions
.
GreenFingers has cut the price of these items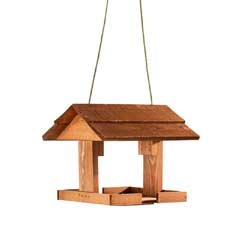 Gardman FSC Redwood Hanging Bird Table was £13.99 now £9.99
A superb addition to your outdoors the Gardman FSC Redwood Hanging Bird Table is perfect for enticing wild birds to feed in your garden. Handmade in the UK from FSC Redwood this is a durable bird table that is quick and easy to hang from any location you choose such as a tree or feeding station. It also features tray cut-out edges for water drainage and easy cleaning. It is a wonderful way to encourage wild birds to feed and will afford you great pleasure to watch all the antics. Birds are only interested in a good supply of food in a safe place and this hanging bird table is perfect for their needs. Suitable for seed or nut feeding this table will last you for years to come. It is also ideal if you are limited for space.With disappearing habitats and climatic changes the Royal Society for the Protection of Birds (RSPB) and the British Trust for Ornithology (BTO) both recommend the year-round feeding of garden birds to maintain a healthy and viable flock of native species. Feeding requirements are greater in late autumn and winter when natural resources are in shorter supply and high energy levels are also needed during spring when birds are busy breeding and raising young. Once you have established a feeding regime – don Gardman Complete Wild Bird Feeding Station Kit was £24.99 now £22.99
The Gardman Wild Bird Complete Feeding Station includes seed suet peanut feeders and a bird bath.Includes:5 x decorative hooks with a finial 1 x large micro mesh feeder tray2 x Black steel seed feeders1 x Premium suet feast feeder1 x Black steel peanut feeder1 x large split level bird bath with a support ringThis feeding station will entice a wide variety of wild birds into your garden. It features all that you could possibly need to feed bathe and water your feathered friends. It would also make a great gift for the bird lover in your life.Requires self-assembly. Extra strength screw together poles and quick fitting accessories. Dimensions:Full height: 226cmHeight Above Ground: 185cmWidth: 58cmCustomer Notes: Treats and seeds are not included. The location of your garden and the type of vegetation immediately around it will determine what birds will visit your feeding station and in what numbers. Siting is very important – birds will only use it if they feel safe. Also wild birds get excited and pre-occupied about bathing and tend to be more vulnerable than at other times. Make sure birds have clear visibility as they bathe with bushes or trees nearby to provide cover if alarmed and perches to use when preening.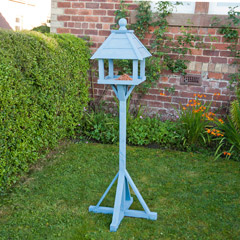 Gardman Livingston Pale Blue FSC Redwood Bird Table was £49.99 now £42.99
Attract birds to your garden with this beautifully designed and very sturdy Gardman Livingston Pale Blue FSC Redwood Bird Table. Let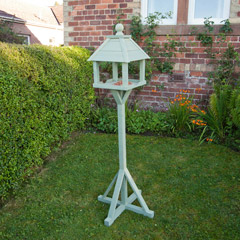 Gardman Kinross Sage Green FSC Redwood Bird Table was £52.99 now £46.99
Attract birds to your garden with this beautifully designed and very sturdy Gardman Kinross Sage Green FSC Redwood Bird Table. Let
Plus another 0 great reductions