by John - November 18th, 2016.
Filed under:
GreenFingers
,
Price Reductions
.
Reduced items at GreenFingers Squirrel Proof Seed Feeder Standard was £4.99 now £3.99
This Squirrel Proof Seed Feeder will protect your wild bird food from thieving squirrels. Squirrels are intelligent and very devious; therefore instead of spending their time foraging for food they will instead raid the bird feeders that you have put in your garden. The Squirrel Proof Seed Feeder will not only keep the squirrels away but also large birds. Manufactured from a tough steel construction this ingenious feeder is surrounded with a wire cage that has small bird-sized openings and the feeder itself has a secure and easy to fill top. Easy to maintain and cleanStrong durable metal constructionKeeps away larger birds Wild Bird Life ApprovedDimensions: 17.5cm diameter x H25cmWith disappearing habitats and climatic changes the Royal Society for the Protection of Birds (RSPB) and the British Trust for Ornithology (BTO) both recommend the year-round feeding of garden birds to maintain a healthy and viable flock of native species. Feeding requirements are greater in late autumn and winter when natural resources are in shorter supply and high energy levels are also needed during spring when birds are busy breeding and raising young. Once you have established a feeding regime – don't disappoint them they will depend on you!Customer note: Colours may vary and we cannot offer a choice on this item.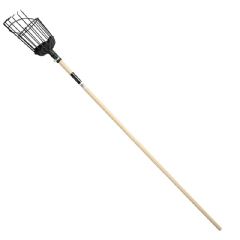 Burgon and Ball Apple Picker was £11.99 now £9.71
The Burgon and Ball Apple Picker is the ideal way to harvest hard to reach fruit that can be easily bruised. This handy tool comes from the Burgon and Ball Harvest Range which is dedicated to the process of picking preserving eating and enjoying the food that you lovingly grow.This is a robust tool that has a powder coated wire basket that is mounted on an FSC wooden handle. This long handle and well-designed basket with its cushioning foam liner makes picking hard to reach apples pears and plums faster and safer than using a ladder.FSC wooden handle. Cushioned wire basket to prevent bruising. Fast and easy to use. Make sure you get the benefit of all your crops and invest in this Burgon and Ball Apple Picker which will see you and your family enjoying the spoils of your hard work in your garden.Length: 146cm
Plus another 0 great reductions