by John - December 9th, 2016.
Filed under:
GreenFingers
,
New Products
.
New items today at GreenFingers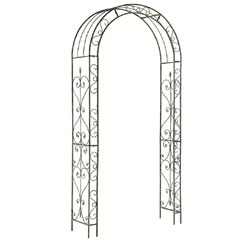 Gardman Loire Arch £54.99
The Gardman Loire Arch is sure to add an elegant focal point to any garden with its timeless scroll design and detailed side panels evoking the spirit of those long sunny days in the center of France. Made from Metal Iron with a white/grey wash finish this arch is the perfect addition to any garden where you want to create a feature and is the perfect structure for your climbing roses clematis or honeysuckle to climb up and through or why not plant sweet peas either side for an arresting summer display.With 6 legs that will provide a sturdy base this is an arch that will last many seasons providing your garden with a visually stunning point of interest that will be the envy of all your friends and neighbours.Scroll design side panelsIron constructionDimensions:W120 x D35 x H230cm All Greenfingers products come flat-packed and will require some assembly.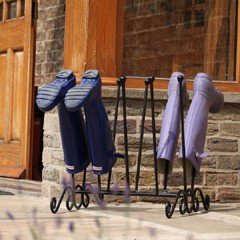 Tom Chambers Boot Rack Stand Large £39.99
Practical and nicely designed this Tom Chambers Boot Rack Stand is an all-in-one place to store your boots or wellies so you don Gardman Marie Curie Cast Iron Daffodil Feeder Dish – 72cm Height £5.99
Bring your garden to life with the Gardman Cast Iron Daffodil Feeder Dish a decorative painted cast iron feeder dish suitable for all seed mixes.This decorative feeder dish is made of cast iron and is painted yellow with red speckled pistils. The feeder features a double ground-spike to keep it anchored into flower borders or lawns. it can also be used as a water dish.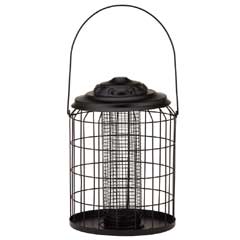 Chapelwood Anti-Squirrel Peanut Feeder 11in £12.44
Stop the marauding squirrels pinching peanuts from your wild birds with this Chapelwood Anti-Squirrel Peanut Feeder. Squirrels are intelligent and very devious; therefore rather than spending their time foraging for food they will instead raid the bird feeders that you have put in your garden. Any wooden tube or ground feeders in your garden are in danger from these little thieves but this brilliant feeder is the answer to your problem. It keeps the squirrels away from the peanuts by surrounding the feeder with a wire cage that has small bird-sized openings and its flat base ensures that it is suitable for surface feeding birds too. Easy to maintain and clean. Twist lock top and bottom. Strong durable steel construction. Wild Bird Life Approved. With disappearing habitats and climatic changes the Royal Society for the Protection of Birds (RSPB) and the British Trust for Ornithology (BTO) both recommend the year-round feeding of garden birds to maintain a healthy and viable flock of native species. Feeding requirements are greater in late autumn and winter when natural resources are in shorter supply and high energy levels are also needed during spring when birds are busy breeding and raising young. Once you have established a feeding regime – don
Plus another 0 new products