by John - January 25th, 2017.
Filed under:
GreenFingers
,
Price Reductions
.
GreenFingers has cut the price of these products Squirrel Proof Seed Feeder Standard was £4.99 now £3.99
This Squirrel Proof Seed Feeder will protect your wild bird food from thieving squirrels. Squirrels are intelligent and very devious; therefore instead of spending their time foraging for food they will instead raid the bird feeders that you have put in your garden. The Squirrel Proof Seed Feeder will not only keep the squirrels away but also large birds. Manufactured from a tough steel construction this ingenious feeder is surrounded with a wire cage that has small bird-sized openings and the feeder itself has a secure and easy to fill top. Easy to maintain and cleanStrong durable metal constructionKeeps away larger birds Wild Bird Life ApprovedDimensions: 17.5cm diameter x H25cmWith disappearing habitats and climatic changes the Royal Society for the Protection of Birds (RSPB) and the British Trust for Ornithology (BTO) both recommend the year-round feeding of garden birds to maintain a healthy and viable flock of native species. Feeding requirements are greater in late autumn and winter when natural resources are in shorter supply and high energy levels are also needed during spring when birds are busy breeding and raising young. Once you have established a feeding regime – don't disappoint them they will depend on you!Customer note: Colours may vary and we cannot offer a choice on this item.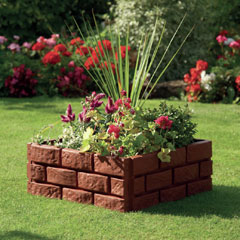 Greenhurst Brick Effect Garden Border 1.72m was £19.99 now £11.99
This Greenhurst Brick Effect Garden Border is an easy to use and versatile way to edge your lawn or create raised beds.This fantastic brick effect border is made from strong ABS material which is long lived and durable. The beauty of this system is that you get the look of natural brick without the hard work. Simply hammer into the ground and the substantial spikes will hold it fast. Each panel locks into the next giving you the option of creating straight or curved structures.Pack of 4 panelsInterlocking designSimple to useLong lastingUse these along a lawn edge to reduce the need for constant attention or use together to create a raised bed or vegetable patch.Panel Size:L43 x H17.5cm (without stakes)Stake Length:11.5cmA pack of 4 panels will create a border that is 172cm long.Please click here for more ideas from our Lawn Edging Department.
Plus another 0 great reductions