by John - February 26th, 2017.
Filed under:
Harrod Horticultural
,
New Products
.
Harrod Horticultural just added these new products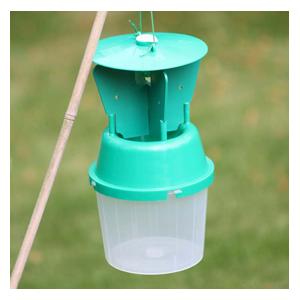 Garden Chafer Beetle Trap £19.95
The More Garden Chafer Beetles You Catch In Our Specially Designed Garden Chafer Trap In May Means Less Lawn-wrecking Grubs Devouring The Roots Of Your Well-kept Grass In August And September – So It Makes Perfect Sense To Invest In And Install One Of These Traps In Your Garden. a Single Garden Chafer Trap Will Cover An Area Of An Acre (2000 Sqm) And The Specially Formulated Pheromone Lure – Supplied With The Trap And Also Available As A Replacement – Will Entice The Beetles Into The Trap, Reduce Numbers And Give You A Fair Idea Of The Potential Grub Activity Later In The Summer. The Garden Chafer Trap Comes Complete With Lure And Instructions And Traps Garden Chafer Beetles, One Of The Two Most Common Species In The Uk.garden Chafer Trap Catches Adult Garden Chafer Beetlespheromone Lure Attracts Adult Beetleslure Lasts For 6 – 8 Weeks And Is Supplied With Trapreplacement Lures Available Separatelyset Up Trap On Lawn In Maygarden Chafer Trap Will Both Trap Adult Beetles And Give Indication Of Possible Grub Numbersfollow Up With Application Of Nemasys Chafer Grub Killer Nematodes In August/septembersupplied Complete With Lure And Instructionssimple To Erecteasy To Storewill Attract Adult Beetles Over An Area Measuring 2000sqm Or An Acre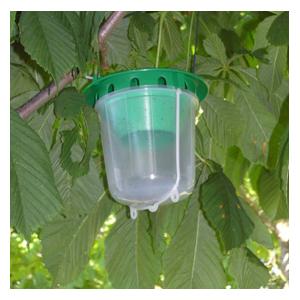 Horse Chestnut Leaf Miner Trap £15.95
The Horse Chestnut Leaf Miner Trap Helps Preserve That Bastion Of The English Countryside, The Horse Chestnut Tree, From Leaf Miners Which Burrow Into The Trees Leaves And Cause Untold Damage – Including A Reduction In Conker Size. the Horse Chestnut Miner Trap Trap Uses A Pheromone To Lure And Catch Adult Moths And Drastically Reduces The Population, Leaving Females Unfertilised And Far Fewer Eggs Which Hatch Into The Leaf Miner Or Caterpillar. Simply Add The Pheromone To The Robust And Weather Protected Conker Tree Miner Trap And Hang In The Tree In April, Remembering To Clear The Leaf Miner Trap Out And Replace The Pheromone Lure Every 6 Weeks Between April And August. Choose Either The Trap With A Single Lure Or The Trap With 3 Lures Which Will Cover The Whole Period. Replacement Lures Are Also Available Separately In Packs Of 5.the Results Should Be Fairly Evident And You Can Enjoy Collecting Large Conkers From Your Valuable Horse Chestnut Trees For Years To Come!horse Chestnut Leaf Miner Trap Available As A Single Lure Trap Or Supplied With A Pack Of 3 Luresreplacement Lures Are Available Separately In Packs Of 53 Pack And Trap Package Covers The Recommended Protection Period From April To Augusttrap Uses A Pheromone To Attract And Catch Male Adult Mothsreduction In Male Moth Population Indirectly Affects Eggs Laid And Leaf Miner Numberstrap Is Simply Laced With Pheromone And Hung In Treereplace Lure And Clear Out Trap Every 6 Weeks Between April And Augustleaf Miners Are Widespread In The South Of England And Present In Much Of The Countryaffected Trees Look Sickly, Suffer From Premature Leaf Browning And Drop And Conker Size Is Reducedtrap Will Not Totally Eradicate Pest But Use Over Years Will Drastically Reduce Damagelures Can Be Stored For Up To 2 Years If Left In Aluminium Sachet Unopened. It Is Recommended To Store Lures In The Freezer.