by John - April 20th, 2017.
Filed under:
GreenFingers
,
New Products
.
GreenFingers just added these new items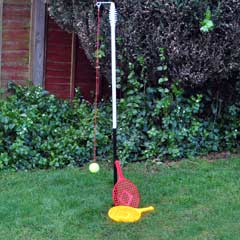 Garden Games – Swing Ball Tennis Garden Game £12.99
Liven up an afternoon with this Swing Ball Tennis Garden Game that the whole family can have fun with! It is a great game where the tennis ball is on a cord so it cannot get lost! You just hit it back and forth and the winner is the one who manages to hit the swinging mechanism until it reaches either the top or the bottom depending on which side you are hitting it. It is a great way to keep your kids occupied outdoors and is also a brilliant game to take with you on days out to the park or on camping trips.Includes: 2 Piece PoleGround SpikeSwinging MechanismTennis Ball with Cord2 RacketsDimensions: H160cmPlease click here to view our Garden Games Department.
Plus another 0 new products