by Diane - June 19th, 2017.
Filed under:
Thompson and Morgan
.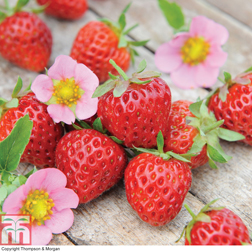 Strawberry 'Just Add Cream™' – 1 strawberry jumbo plug plant
Our best ever pink flowering strawberry putting taste and aroma at the front of the queue. A compact plant producing masses of mid-pink flowers and up to 1kg of fruit per plant. Early to fruit, it will keep cropping until the first hard frosts of Autumn. The key difference separating it from any strawberry currently available is its unique flavour. It combines the sweetness of more standard strawberries with the special taste of the wild woodland or alpine strawberry. Height 30cm, Spread 50cm.
Strawberry 'Just Add Cream™' – 10 strawberry jumbo plug plants £16.99
Strawberry 'Just Add Cream™' – 5 strawberry jumbo plug plants £12.99
Strawberry 'Just Add Cream™' – 1 strawberry jumbo plug plant £2.99