by John - July 27th, 2017.
Filed under:
GreenFingers
,
Price Reductions
.
GreenFingers has cut the price of these items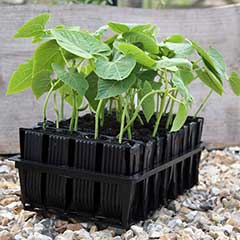 Haxnicks Deep Rootrainers was £7.99 now £7.49
Haxnicks Deep Rootrainers encourage vigorous & strong root formation; roots grow straight avoiding root balls and pot bound plants.Here are just a few examples of the many plants that can be grown in the Deep Rootrainers:Broad Beans Runner Beans French Beans Beetroot. Sweet Peas Delphiniums Sweet Williams Wallflowers. Opening the Rootrainer up in a book-like fashion allows for easy inspection of moisture levels and root progress as well as satisfyingly easy removal of the young plants.Deep Rootrainers are suitable for propagating and cultivating nearly all plants trees shrubs herbaceous fruit and vegetables; especially those that have deep fast growing roots such as sweet peas and beans.Dimensions: W36 x D22 x H12cmEach Pack Contains: 1 holding tray 8 books and a clear propagating lid.
Plus another 0 great reductions