by John - August 6th, 2017.
Filed under:
GreenFingers
,
New Products
.
New products today at GreenFingers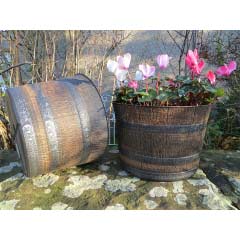 Whisky Barrel Planter 12.5in – Dark Brown with Silver Bands £3.99
Give your home or garden a country feel with the Whisky Barrel Planter. This stunning lightweight alternative to heavy wooden barrel planters is sure to stand out as a feature wherever you position it in your garden or home.Features:Suitable for outdoor use. Made with recycled materials. Drainage hole. Hand crafted finish. This strong heavy duty planter has all the great look and feel of a traditional wooden whiskey barrel planter but is actually a lightweight alternative that will never rot or need varnishing.The wide design allows for plants with larger root systems or allowing plants to grow larger and more impressive while the larger lip allows for easy moving. The hand-painted exterior of these barrels mimics the texture and grain of a traditional wooden barrel and is weatherproof allowing you to place them anywhere in the garden without any risk of paint damage.This product is made with recycled materials making an eco-friendly option for gardeners looking to make their gardening even more green.Dimensions:Dia32 x H21.5cmVolume: 13.3LtrColour: Dark Brown with Silver Bands.Create an country effect in your home garden patio or conservatory with the Whisky Barrel Planter.
Plus another 0 new products