by John - August 10th, 2017.
Filed under:
GreenFingers
,
New Products
.
GreenFingers just added these new products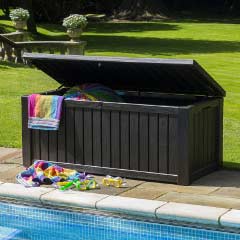 Norfolk Rockwood Waterproof Storage Box – 5 x 2ft £149.99
With an outstanding 570-liter capacity the Norfolk Rockwood Waterproof Storage Box is one of the largest watertight outdoor storage boxes currently available. Despite its large size and functionality this product maintains its high level of quality and stunning good looks while the high quality resin ensures that it will never rot or decay.Features:High quality resinCreate stunning outdoor storage spaceWater-proof storageOpen and close piston for safetySpace for padlockFurniture colour: Dark Brown Wood EffectWith plenty of storage space for all your outdoor goods the Norfolk Rockwood Waterproof Storage Box is a hard wearing and water-proof storage option that will ensure that your outdoor goods are always close at hand while you are enjoying your garden or pool.Whether you are looking to store outdoor cushions garden equipment or outdoor toys for the kids this box has more than enough space and thanks to its water-tight design it is also perfect for storing animal and bird food. This storage unit is also ideal for storing pool and hot tub accessories close by the pool for easy access while out swimming. In addition to being able to store a huge amount of goodies this product doubles as a handy bench.This outdoor storage box features a space for a padlock (not included) so that you can safely leave things out in your garden without having to worry about them and as an added safety feature this product features an open and close piston that prevents trapped fingers.The durable and long-lasting resin is famous for its high quality and will never rot corrode or decay making this a low maintenance piece of outdoor furniture. Suitable for outdoor use.Dimensions: Rockwood Storage Box 570 Litre Capacity:External: W155 x D74 x H64cmInternal: W142 x D62 x H58cmWeight: 22kgThe Norfolk Rockwood Waterproof Storage Box is easily one of the best looking and most functional outdoor storage options available.
Plus another 0 new products