by John - October 7th, 2017.
Filed under:
GreenFingers
,
New Products
.
GreenFingers just added these new products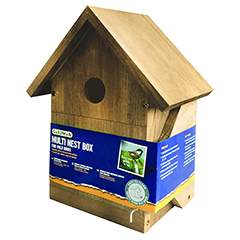 Gardman Wild Bird Multi Nest Box – 28cm Height £5.99
The Gardman Wild Bird Multi Nest Box is a wooden bird box with two different entrance options letting you choose between small or medium birds.The Nest Box is made of FSC certified timber and features both 32mm and 28mm entrance holes and a removable floor panel for easy cleaning and maintenance.Made of FSC certified timber. 32mm and 28mm entrance holes. Removable floor for cleaning. What to do:Site bird box out of reach of predators. Place away from prevailing winds rain and strong sunlight. Place away from bird tables and feeders. Once occupied leave undisturbed until fledglings have left the nest.Suitable for: Small or medium wild birdsDimensions: W17 x D13 x H28cmCustomer Notes: Cleaning after birds have fledged between October and January. Remove old nest materials clean with a mild disinfectant and rinse with clean water.
Plus another 0 new products