by John - October 18th, 2017.
Filed under:
Harrod Horticultural
,
New Products
.
Harrod Horticultural just added these new products
Replacement Liners For Manger Trough Planter £5.45
Replacement Liners Are Available For Every Size Of Our Micro, Mini And Maxi Manger Trough Planters, Made From Non-woven Polypropylene These Thick Fitted Liners Help Retain Water And Contain Fine Sand And Compost To Prevent Leaching And Offer Protection To The Wooden Planter.thick Polypropylene Linersdifferent Sizes To Fit All Manger Trough Plantersmicro Manger – 2ft, 4ft, 6ft, 8ftmini Manger – 2ft, 4ft, 6ft, 8ftmaxi Manger – 2ft, 4ft, 6ft, 8fthelps Retain Moisturereduces Leaching Of Nutrientsprotects The Timbersupplied As Single Linern.b These Are Replacement Liners – All Manger Trough Planters Are Supplied With A Liner.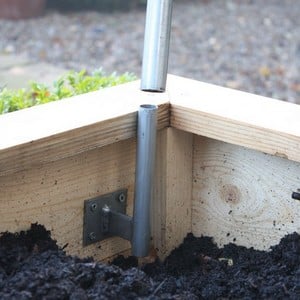 Hoop Brackets For Wooden Raised Beds £1.95
The Hoop Brackets For Our Wooden Raised Beds Have Been Designed To Securely Hold Our Our High Top Hoops In Place In The Beds So That Netting Can Be Put Over The Hoops To Protect Your Plants From Pests And Adverse Weather.the Brackets Can Be Easily Screwed Into The Wooden Raised Beds, Then Simply Slide The Hoop Over The Bracket To Fix In Place. Each Bracket Is Galvanised For Long Life And Are Available Individually – Just Order 2 Per Hoop. hoop Brackets Designed To Support Our High Top Hoops In Wooden Raised Bedssecures To The Inside Of The Raised Bedgalvanised For Long Lifesupplied Individually – 2 Required Per Hoopideal To Support All Types Of Garden Plant Netting