by John - December 1st, 2017.
Filed under:
GreenFingers
,
New Products
.
New items today at GreenFingers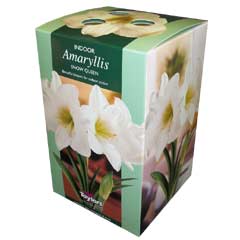 Autumn Bulbs – Amaryllis Snow Queen Gift Pack 1 Bulb £6.99
This magnificent white flowering Amaryllis Snow Queen produces several large trumpet-shaped blooms on top of the tall stems during the coldest months of the year. Wonderful for adding colour and brightness to your home it makes a superb gift for any indoor plant lover. Flowering from winter to spring it is sometimes grown as a Christmas gift. Growing this plant is very rewarding as it is easy to plant and with a little care it can be encouraged to bloom again. It can be planted between October and January and will generally flower within six to ten weeks of planting.Flowering period: Late winter/early spring Height: 45-60cm Bulb size: 26-28cmUse the compost supplied and plant the bulb so that about a third remains above the compost surface. Water the compost lightly from the top and place in a warm bright and draught-free position at a temperature of about 20C. Water sparingly as the amaryllis bulb starts to grow keeping the compost moist. Turn the pot regularly to prevent the flower stem bending towards the light. As soon as the flowers start to open move it to a cooler position to prolong the flowering period.Included:1 x pot1 x bulbCompost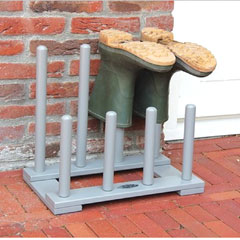 Fallen Fruits Wooden Boot Rack – Grey – 4 Pairs £21.99
There is nothing worse than going for your boots and finding they are in a damp heap in the corner of a back kitchen. With this stylish Fallen Fruits FSC Wooden Boot Rack you can consign this unappealing scenario to history.Manufactured from high quality wood sourced from FSC Certified managed forests and coming in a fetching light grey colour scheme the prongs of this boot rack are set out in two parallel lines with the back row being taller so each boot gets the optimum chance to dry fully. This boot rack is capable of taking 4 pairs of boots meaning the whole family can enjoy the pleasure of aired dry boots.FSC wood construction.Stores up to 4 pairs of boots. Keep this in your porch back kitchen or by your door to make sure that everybody uses it preventing mud and dirt from coming into your home as well as storing your boots neatly for the next time you need them.Dimensions: L42 x D26 x H42cmColour: Light grey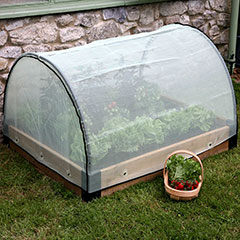 Haxnicks Raised Bed Pest Protection Micromesh Cover – 1.2m x 1m £9.99
This Haxnicks Raised Bed Pest Protection Micromesh Cover is designed exclusively to fit the Haxnicks Raised Bed Frame: LT5596DThe combination of the will protect crops inside your Raised Bed Base from aphids birds carrot fly and animals. Helps create an ideal growing environmentAllows air and rain to pass through easilyHelps to retain soil moisturePrevents sun scorchingDimensions: W120 x D100 x H50cmCustomer Note: This product is the net only and does not include the frame or raised bed. Windowsill Herb Pots £7.99
Nothing beats cooking with fresh herbs and with these Windowsill Herb Pots you can enjoy growing your own! This set contains 3 decorative ceramic pots with saucers contains compost instructions and Basil Parsley and Chives seeds. A fantastic addition to your windowsill this set also makes a great gift too.Approximate Dimensions of each pot: Height: 8cm tall Base (squared): 6cm Top (squared): 8cm Tray: 25 x 7.5 x 2cm high
Plus another 0 new products