by John - December 8th, 2017.
Filed under:
GreenFingers
,
New Products
.
GreenFingers just added these new lines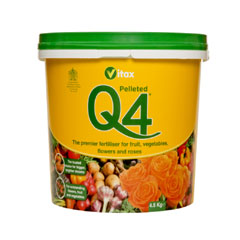 Vitax Q4 Fertiliser 4.5kg £13.99
The Vitax Q4 is an exceptional fertiliser suitable with fruit vegetables flowers and roses. Pelleted the Q4 contains all the plant foods and trace elements essential for vigorous growth ample flowering and ripening of fruit. Easy to use just apply the recommended quantity to moist soil and lightly hoe in making sure to repeat this throughout the growing season. This is a general purpose fertiliser that can help replenish soil providing your plants with every chance of prospering. For roses the Q4 product should be mixed with the soil prior to planting and then used as an annual dressing every Spring. For flowers and vegetables it is recommended to be applied prior to planting and vegetables are then top dressed with Q4 once or twice during the growing season. For tomatoes and chrysanthemums it should be applied before planting and then as a regular feed at 3 to 4 weekly intervals.
Plus another 0 new products