by John - February 1st, 2018.
Filed under:
GreenFingers
,
New Products
.
GreenFingers has these new lines today Greenworks 40v Hedge Trimmer and Polesaw – Battery and Charger £209.99
The versatile Greenworks 40v is powered by a Lithium-Ion battery and includes two tool attachments: hedge trimmer and polesaw. 51cm Hedge trimmer with adjustable cutting angle20cm Polesaw bar and chain easy adjust chain tensioningAutomatic oiler3-piece aluminium shaft can be extended to 2.4 m80 cuts of 10x10cm wood on a full chargeComes with 40v 2Ah Li-Ion battery and chargerUp to 50 minutes run-time with one 2aH battery2 Year Domestic WarrantyWeight: 4.3kg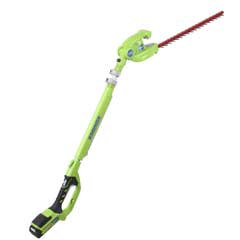 Greenworks Long Reach Cordless Hedge Trimmer 24V/51cm £149.99
With an extended shaft for increased reach and leverage during use this Greenworks Long Reach Cordless Hedge Trimmer also has dual action laser cut blades to give you powerful and precise cutting when trimming your hedges and bushes. It features a cushion-over-mould grip for reduced vibrations and comfort a 7-position pivoting head a 180 degree rotating rear handle to provide easy trimming at multiple angles and a Clear View Knuckle Guard providing you with a see-through design for precision cutting. It comes with a 24V lithium-ion battery that delivers high efficiency and an enhanced fade-free performance with no memory loss after charging. It is super quick and easy to use with ergonomic handling thanks to its perfectly balanced design. It is suitable for cutting a wide range of hedges; the blade has an integrated safety guard for maximum protection and comes with a cover and a lock-off switchprevents accidental start-ups. Key features:Extended Shaft. Safety Guard. Dual Action Steel Blades. Lock-off Switch. 7-Position Pivoting Head. 24V 2Ah Lithium Ion Battery and Charger. 10min run timeQuick 45min charge time. Sheath cover for safe storage and transportation. Specifications: Telescoping Pole Extends to 200cmBlade Length: 51cmCutting Capacity: 18mmWeight with Battery: 8kgClick here for the Manual.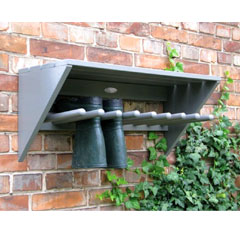 Fallen Fruits Wall Mounted Boot Rack – 4 Pairs £49.99
The Fallen Fruits FSC Wall Mounted Wooden Boot Rack will allow you to hang up to 4 pairs of boots.Manufactured from high quality FSC wood. Light grey colour scheme. Prongs of this boot rack are designed to support each boot at the ankle. Handy shelf for other outdoor items. Dimensions: L76 x D31 x H35cmCustomer Notes: The prongs are intentionally large for the holes so when they Garden Groom Pro Hedge Trimmer £95.99
Make light work of cutting the hedge with the fabulous Garden Groom Pro. It has a unique collecting system that makes the job of hedge trimming much simpler. As you cut none of the waste is left on the lawn thus saving you time and effort allowing you to enjoy more time relaxing in the garden. The Garden Groom extra large precision ground rotary blade makes light work of the largest hedge and because it rotates at such high speed produces much finer clippings than a conventional straight blade hedge trimmer reducing their volume by as much as 90% ideal for composting. Garden Groom is the world
Plus another 0 new products