by John - March 23rd, 2018.
Filed under:
GreenFingers
,
New Products
.
GreenFingers has these new products today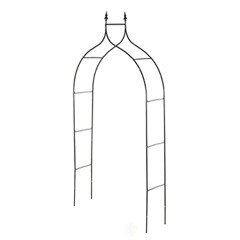 Greenfingers Harrington Arch £12.99
An elegant Greenfingers Harrington Garden Arch will look beautiful entwined with climbing plants such as clematis honeysuckle or roses. It is a lovely way to add interest to any garden and it will add height and structure to your garden. A gorgeous focal point that is sure to be admired by your friends and family.Manufactured from powder coated durable metal steel tubing this arch will look good for years to come.Colour: BlackOverall dimensions: W145 x D38 x H260cmTubing: 13mmPlease note: Greenfingers products arrive flat packed for easy home assembly. The nuts for this item are fixed within the horizontal bars and not supplied separately.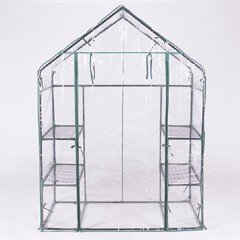 Greenfingers Walk-In Greenhouse – Cover Only £16.99
This Greenhouse Cover has been specially designed to fit the Greenfingers Steel Walk-in Greenhouse code LS6315D. It is a tear resistant polyethylene cover with a roll-up front panel that ties at the top for easy access or ventilation.Dimensions: 143 x 73 x 195cm highPlease note: this item is the cover only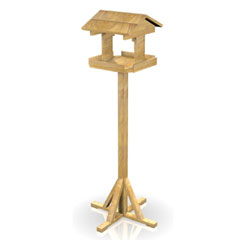 Peckish Everyday FSC Garden Wild Bird Table £37.99
This fantastic Natures Feast Everyday FSC Garden Bird Table provides your feathered friends with a safe sheltered place to feed. This is a sturdy robust bird table with a simple design that will complement a variety of garden styles – making it an attractive and useful addition for any garden. Constructed from FSC soft wood you can be sure that the materials have been sourced in a responsible and environmentally sound way. The pitched roof provides protection to feeding birds from rain snow and predators. This bird table will also provide a dry place to hang a nut feeder or suet ball from a hook (not supplied) off the side of the table100% FSC certified. Classic design. Stable 4 leg design. With disappearing habitats and climatic changes the Royal Society for the Protection of Birds (RSPB) and the British Trust for Ornithology (BTO) both recommend the year-round feeding of garden birds to maintain a healthy and viable flock of native species. Feeding requirements are greater in late autumn and winter when natural resources are in shorter supply and high energy levels are also needed during spring when birds are busy breeding and raising young. Once you have established a feeding regime – don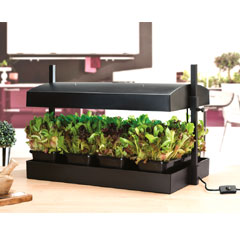 Grow Light Garden £69.89
To get your seedlings off to an early start or grow your favourite plants all year round a grow light garden is essential for the keen gardener.Housed within the canopy are 2 x 60cm high efficiency 24w fluorescent bulbs lasting up to 10000 hours providing full spectrum lighting (6400 Kelvins each) which use less electricity than the standard household light bulb. The electronic ballasts eliminate any annoying buzzing and ensure a no flicker on start upSelf watering insert. The unit is in an attractive black finish complete with a fully adjustable canopy set on aluminium uprights giving a maximum clearance height of 38cm from the bottom of the base tray. Complete with 4 growing trays which feature 2 tier drainage cells which can be used repeatedly. Dimensions: L62 x W43.5 x H43cm
Plus another 0 new products