by John - March 24th, 2018.
Filed under:
GreenFingers
,
New Products
.
New products at GreenFingers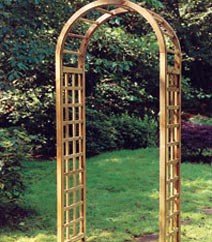 Grange Elite Arch £119.99
This substantial arch is an ideal way to add some interest to garden paths or to add height to your garden as a focal point. The lattice sides of this treated timber arch act as a natural support for plants to be grown up and over the rungs of the upper arch. Ideally to fix arch to the ground it should be bedded into the ground 17-18 inches deep.Dimensions: 100cm (w) x 44.5cm (d) x 254cm highOuter width: 100cmInner width: 91cmWidth of supporting side: 4.5cm on either sideThe measurements include the 17-18 to be inserted into the ground.Please Note: Grange products carry a 20 year guarantee against rot if isolated from the ground on pressure treated and dip treated products. Any product modification will render the guarantee null and void. The guarantee covers the cost of replacement goods only.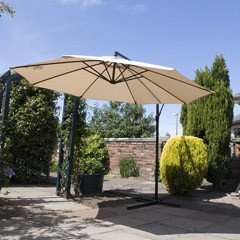 Ellister Premier Cantilever Parasol Cream – 3m £69.99
This Ellister Premier Cantilever Parasol makes the perfect finishing touch to your patio or garden set and helps keep you cool this summer.This cantilever parasol has a dark brown steel frame with 8 steel ribs a cream coloured 220g polyester canopy and an air vent which helps reduce wind pressure and allows the heat to circulate.Canopy Radian: 3mCanopy diameter: 2.9mPole size: 4.8cm diameter (main pole)Pole Size: 4.2cm diameter (hanging pole)Floor to mid-point of parasol: 1.93mFloor to top of parasol: 2.52mBase dimensions: 50 x 50 x 4.5cm high Please click here for the Pagoda Cantilever Parasol Base Section 14kg – 2 PackCustomer Note: This parasol does not tilt. 7.72m Fleur-de-lys Edging – H17cm £40.99
Edging does wonders for the front of a border or along a path or lawn and this classic fleur-de-lys design adds a touch of style to any garden and now it is available as a great value Multi-Buy.This classic fleur-de-lys edging is made from durable resin making this a great looking item that is weather resistant and easy to keep looking good. Contents: 4 x Edging packsEach pack contains 6 separate panels totalling 1.93m long.Height: 17cms Each edging strip has a 13cm spike to put in the ground and keep in firmly in position.Colour: blackPlease note: This edging is very rigid and is for straight lines only. Also the design only stands out fully on one side the other side is flat.
Plus another 0 new products