by Sarah - March 30th, 2018.
Filed under:
Crocus
,
Price Reductions
.
Crocus has cut the price of these lines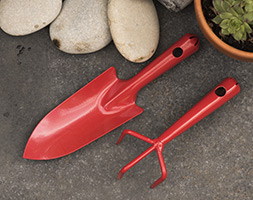 Kids trowel was £2.99 now £1.99
Lightweight and compact Coated stainless steel for rust protection Hangs on hook or nail in the shed Encourage little ones to help around the garden with their very own tools. Many hands make light work! Made from rust-resistant coated stainless steel, the trowel is specially designe d for small hands with a shorter length and lighter weight. A great all-rounder for general digging, planting and weeding, the cheery red fi nish means it'll always be easy to find among the greenery. Includes integrated hole for easy hanging in the shed. Measurements: W5cm x D2cm x L20cm Please note: any children's tool should always be used under adult supervision.