by John - April 11th, 2018.
Filed under:
GreenFingers
,
New Products
.
New items at GreenFingers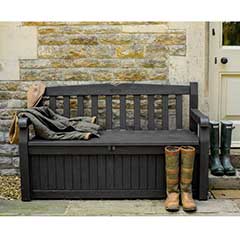 Norfolk Leisure Iceni Waterproof Storage Bench £123.99
Combing a stunning outdoor bench with a large storage box the Norfolk Iceni Waterproof Storage Bench is a versatile and functional piece of outdoor furniture that will quickly become an essential part of your gardening experience. With a storage capacity of 265-litres and made out of durable resin that will never rot or decay this is a garden investment that will benefit you for years to come.Features:High quality resinCreate stunning outdoor storage spaceWater-proof storageSpace for padlockDual functionFurniture colour: Dark Brown Wood EffectDouble up on function with the Norfolk Iceni Waterproof Storage Bench. This stunning piece of outdoor furniture is not only a large and comfortable bench but it also features a large storage box underneath.Whether you are looking to store outdoor cushions garden equipment or outdoor toys for the kids this box has plenty of space and thanks to its water-tight design it is also perfect for storing animal and bird food. This storage unit is also ideal for storing pool and hot tub accessories close by the pool for easy access while out swimming. This outdoor storage box features a space for a padlock (not included) so that you can safely leave things out in your garden without having to worry about them.The durable and long-lasting resin is famous for its high quality and will never rot corrode or decay making this a low maintenance piece of outdoor furniture. Suitable for outdoor use.Overall Dimensions: W140 x D60 x H84cmInternal Dimensions: W125 x D52 x H40cmWeight: 18kgInside Weigh Capacity: 35kgExternal Weight Capacity: 350kgWith its double function nature the Norfolk Iceni Waterproof Storage Bench is a highly versatile piece of outdoor furniture that will provide years of pleasurable use.
Plus another 0 new products