Thursday, September 30th, 2010
Small sheds Garden Buildings Direct.
A 6 x 4 shed is a perfect size shed for a small garden! It'll be big enough to fit the mower, some gardening tools, a bag of kids garden toys and loads of other stuff. Put a shelf up high for storing plant pots and tubs of weed killer or plant food. Put hooks on the wall for hanging tools. Keep as much stuff off the floor as possible so you can always get in and out. Use the back of the door too! If you're going to keep lots of tools and small stuff in it then it makes sense to add some sort of storage – so look out for an old chest of drawers or cupboard! You can look on freecycle for this sort of thing!
A tidy shed means you can always get at what you need! You can also get more stuff in if you're organised! Add extra shelves near the door but high up so it won't interfere with anything you leave underneath!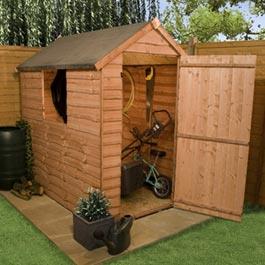 Wooden Shed Billyoh Traditional Economy Apex 6′ x 4′
£144.95
The BillyOh Traditional Economy Apex comes complete with a styrene glazed fixed side window that allow a generous amount of light that is needed for any storage shed. A single door to aid in the self assembly process and allow access to the building. Full fixing kit including felt and instructions are included.