Sunday, February 27th, 2011
Sow in a pot and keep some on your kitchen windowsill. Sow a new pot every few days to keep a good flow of it coming!
New products at Thompson & Morgan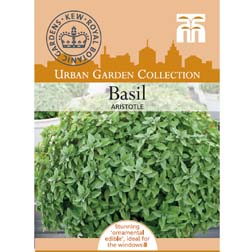 Basil 'Aristotle' – 1 packet (35 seeds) £2.69
Neat, compact mounds of small leaves with a most delicious flavour make Basil 'Aristotle' a stunning ornamental, edible pot plant. The aromatic foliage adds flavour to all manner of dishes, particularly Italian recipes. This Greek basil is perfect for growing on the kitchen windowsill or in containers outside the back door. Height: 20cm (8"). Spread: 30cm (12").