by Sarah - May 11th, 2011.
Filed under:
Thompson and Morgan
.
Easy to grow, great tasting and huge choice!
Gooseberries available to buy at Thompson & Morgan. Make gooseberry pie or jam!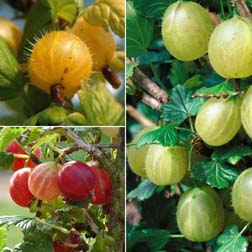 Gooseberry Collection – 9 bushes – 3 of each variety £49.99
Quintessentially English, gooseberries can be picked early in the season for savoury sauces or left on the bush to ripen, gradually becoming deliciously sweet and juicy. Our established 2 year old bareroot plants are supplied ready pruned, with a 15cm (6") leg and around five 23cm (9") stems, that once planted will quickly establish. Height and spread: 120cm (48").Collection comprises 1 bush each of:Gooseberry 'Xenia' – Gorgeous, red, smooth-skinned dessert gooseberries with an exceptionally sweet flavour.Gooseberry 'Hinninmaki Yellow' – Unlike other varieties the fruits of this variety have a delicious aromatic flavour with a hint of apricot.Gooseberry 'Invicta' – One of the heaviest cropping gooseberries available produces almost twice as much fruit as other varieties.