by John - July 8th, 2011.
Filed under:
New Products
,
Thompson and Morgan
.
Thompson & Morgan just added loads of new items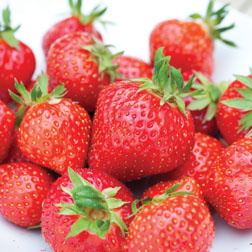 Strawberry 'Irresistible' (EM1294) – 1000 runners £249.99
Recent commercial trials by T&M found that Strawberry 'Irresistible' had the best flavour out of all the strawberry varieties tasted. The vigorous dark green plants produce well shaped, glossy berries with a large calyx, and an exceptional sweet and juicy flavour. The delicious fruits are ready to harvest from June to early July but will also stand well on the plant for a short time. Cropping periods can also be brought forward or extended if you are growing them in a greenhouse or polytunnel. Strawberry 'Irresistible' is well suited to growing in containers for a space saving crop on the patio. Height: 20cm (8"). Spread: 30cm (12").**Propagation prohibited. For home gardener use only. Further propagation of Strawberry 'Irresistible' is forbidden without a license from Meiosis.