by John - July 8th, 2011.
Filed under:
Price Reductions
,
Thompson and Morgan
.
Reduced products at Thompson & Morgan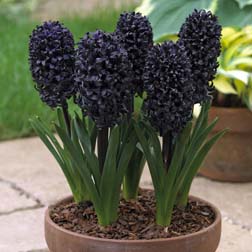 Hyacinth 'Midnight Mystique' – 3 bulbs was £12.99 now £8.99
Rare and highly sought after, this is the first and original black hyacinth! Available again due to popular demand – you won't find this variety for sale anywhere else! Launched to a frenzy of interest at the Chelsea Flower Show in 2005, Hyacinth 'Midnight Mystique&trade' was soon completely sold out. A real breakthrough in breeding, Thompson & Morgan spent 16 years developing just three mother bulbs and the result is this stunning, unusual hardy black hyacinth with a heavenly scent. Try it in contemporary silver patio pots, or grow it in beds and borders. Either way, make sure it's on show for all to enjoy! Height: 20cm (8"). Spread: 8cm (3"). For the darkest black blooms, Hyacinth 'Midnight Mystique' must be grown outdoors, as flowers will appear purple in colour when 'forced' for indoor cultivation.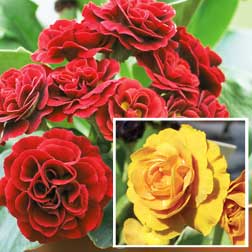 Auriculas Collection – 2 plants in 7cm pots – 1 of each variety was £14.99 now £12.99
Exquisite, double-flowered auriculas in commercial quantities for the first time ever! Choice, collectable varieties, so beautiful and gently fragrant too. It is often said they would cost a weeks wage in olden days. These doubles will be even more in demand.Collection includes varieties 'Jupp' and 'Crimson Glow'.