by John - July 29th, 2011.
Filed under:
Price Reductions
,
Thompson and Morgan
.
Reduced price on lines today at Thompson & Morgan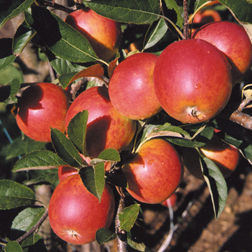 Apple 'Meridian' – 1 tree was £19.99 now £10.99
Apple 'Meridian' is one of the best modern UK-developed apple varieties. An attractive well-flavoured modern English apple from Falstaff and Cox that is simply bursting with juice. The fruits are similar to 'Cox's Orange Pippin' but with a more delicate, though well balanced flavour. They can be harvested from October.Grafted onto a dwarfing rootstock, the crowns of 'Meridian' apple trees are easily reached to prune, spray and pick your delicious fruit. Apple 'Meridian' is partially self fertile, but for the heaviest crops it is best grown with another variety to ensure good pollination. If you only have room for one tree then make sure that a neighbour has a tree close by that can act as suitable pollinator. Height and spread: 2.5m (8') Rootstock: M9.