by Sarah - October 3rd, 2011.
Filed under:
allotment
,
garden
.
What is land cress?
Also known as American cress, bank cress, black wood cress, Belle Isle cress, Bermuda cress, early yellowrocket, early wintercress, scurvy cress, and upland cress, is a biennial herb in the Brassicaceae family.
It can be used in sandwiches, or salads, or cooked like spinach, or used in soup. Anything watercress can do, it can do.

Growing land cress – needs full sun and frequent watering (or grow near but not in a stream or other water source) – might do well as the bottom of water barrels that overflow.

It is a hardy salad crops which will stand outside all winter in pretty much any weather making it perfect for planting for eating over winter. Let it go to seed and you never need buy a packet of seeds again.

Sow from Spring to September.
Cress American Land Seeds from Plant Me Now £1.49
Delicious peppery flavour, an alternative to watercress. Easy and fast growing, it is quick to crop, even in containers. Excellent source of vitamin C.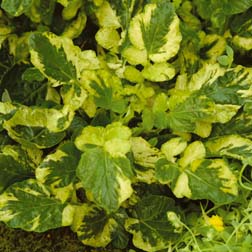 Variegated Land Cress (Winter) – 1 packet (1000 seeds) from Thompson & Morgan £1.89
Barbarea vulgaris. A new 100% variegated introduction. Variegated Winter Land Cress is very popular as a salad ingredient with a taste and look reminiscent of watercress. Variegated Winter Land Cress can be harvested virtually all the year round, if covered with cloches during severe winter weather. Flavour guide: Crisp and tangy; alternative to watercress.
Salad Leaves 'Land Cress' – 1 packet (1100 seeds) from Thompson & Morgan £1.99
Customer RatingTasty water cress substitute, Land Cress is ready in 7-8 weeks. Sow seeds from early spring onwards, over-winters too. Vitamin, iron and calcium rich cress which tastes almost like watercress but has a smaller leaf providing a continuous supply over a long period. Salad Leaves Land Cress is easy to grow and does best in a cool moist soil and part shade.
Easy Salad Leaves Seeds from Plant Me Now £3.99
Great summer salads, grow in pots. Pick as baby leaves or mature plants. 6 varieties include Lambs Lettuce Flavour, Land Cress, Lettuce Salad Bowl Mixed, Mizuna, Mustard Oriental Red, Rocket.