by Sarah - October 3rd, 2011.
Filed under:
allotment
.
Rocket is also known as rocket, roquette, rucola or arugula.
Once you have planted rocket you should find it easy to save seed year after year. When they go to seed leave some flowers on for the bees and other insects and wait til the seed pods dry and then harvest them. Put them in a bag and roughly crush it to get the seeds out. They produce plenty of seed.
It's definitely a plant for the insects too as the leaves are used as a food by the larvae of some moth species, including the Garden Carpet moth. It is also eaten in salad by us!
It's quite peppery so serve with a good dressing with a squeeze of lemon in!
It is rich in vitamin C and potassium. You can eat the leaves or the young seed pods or even just the seeds.
I'm off now to go and pick some of the seed pods on my rocket on my allotment!
Easy to grow – try it in pots for over winter in the cold frame or greenhouse.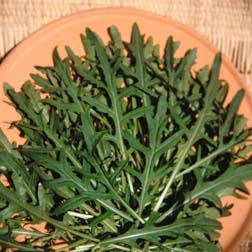 Rocket (Organic) – 1 packet (750 seeds) from Thompson & Morgan £0.99
Popular, easy-to-grow salad leaf, Rocket is used in salads and sandwiches for its unique aromatic taste. Rocket can also be included in pizza and pasta dishes, or steamed as a spinach substitute. Sow in succession and pick leaves as required. Culinary note: Rocket flowers are edible. For more details about edible flowers click here.