by Sarah - October 5th, 2011.
Filed under:
allotment
,
garden
.
Known as Lewiston cornsalad, lamb's lettuce, fetticus, field salad, mâche, feldsalat, nut lettuce and rapunzel, lambs lettuce is a great overwinter salad vegetable.
Sow from July onwards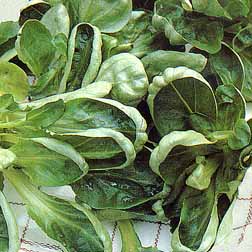 Corn Salad 'Cavallo' – 1 packet (650 seeds) from Thompson & Morgan £2.29
Corn Salad Cavallo keeps on producing a mass of fresh flavoured, deep green 'lamb's lettuce' leaves. A late summer sowing will guarantee winter salads.