by Sarah - October 23rd, 2011.
Filed under:
Uncategorized
.
Thompson & Morgan have these nuts trees that would be a great addition to any garden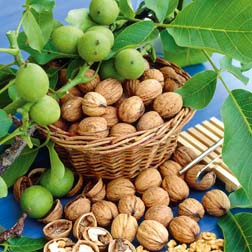 Walnut 'Lara' – 1 tree £39.99
Walnut trees make a magnificent feature for the larger garden. French Walnut 'Lara' is a spur bearing variety and slightly more compact than others, although it will still make spectacular proportions. This early bearing walnut produces excellent quality nuts with a unique creamy flavour from September. Walnut 'Lara' is propagated onto 'Juglans regia' rootstock. It is self-fertile and therefore does not require a pollination companion. Walnut trees may be slow to establish but will begin to produce nuts after about four years. Height: 12m (39'). Spread: 9m (29').